Jurassic World: Dominion Dominates Fandom Wikis - The Loop
Play Sound
Rebekah (Keller) Hunt is the daughter of Mike and Suzette Keller. She is the younger sister of Esther Shrader and the older sister of Daniel, Nathan, and David Keller, Priscilla Waller, Anna Duggar, and Susanna Bridges. She is the ex-wife of Joshua McDonald. She is married to Kevin Hunt. She is the mother of Annabel and Alyssa MacDonald.
Early Life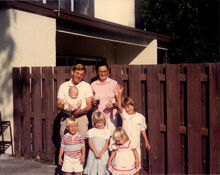 Rebekah Ann Keller was born on May 15, 1983, to Michael Keller and Suzette Stembridge. She was the couple's second child, and they went on to have six more children after her.
Rebekah and her siblings were homeschooled growing up, following the teachings of Bill Gothard's Institute in Basic Life Principles, which she has left as an adult for a more mainstream version of conservative Christianity.[1] They were raised with strict rules, including weekly 15 minute meetings for one-on-one time with their parents.[2]
Family
First Marriage
Rebekah married Joshua McDonald on August 21, 2004.
The couple divorced on May 22, 2015. The reasons listed were "discord or conflict of personalities between Petitioner [Rebekah] and Respondent [Joshua] that destroys the legitimate ends of the marriage relationship and prevents any reasonable expectation of reconciliation." Rebekah was granted primary custody of their children, with Joshua getting every other weekend and Thursday nights.[3]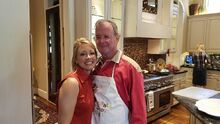 Second Marriage
Rebekah is currently married to Kevin Hunt.
Details of this marriage are unknown. In 2018, the Keller family celebrated Thanksgiving at Rebekah and Kevin's home, which is the first public reference to their relationship.[4] When Rebekah's brother Nathan began courting, his girlfriend's mother listed Rebekah on a post about Nathan's family, stating that her last name is Hunt. This suggests that Rebekah is, in fact, married to Kevin.[5]
Motherhood
Rebekah has two daughters. Annabel was born in July of 2005[6], and Alyssa was born in May of 2007[7].
Wedding Involvement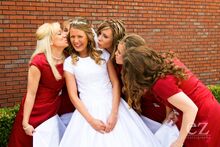 Rebekah has been involved in the following weddings:
References