Michelle Annette (Ruark) Duggar is the 7th and youngest child of the late Garrett and Ethel Ruark. She is married to Jim Bob Duggar, and they have nineteen children, Josh, Jana, John, Jill, Jessa, Jinger, Joe, Josiah, Joy, Jedidiah, Jeremiah, Jason, James, Justin, Jackson, Johannah, Jennifer, Jordyn, and Josie, as well as legal guardianship of her great-nephew Tyler Hutchins. She has twenty three grandchildren.
Early Life
Michelle Annette Ruark was born on September 13th, 1966, to Garrett Floyde Ruark[1] and Ethel Marie Hardin[2]. She was the couple's seventh and final child.
Michelle attended Westwood Elementary School in Springdale, AR[3].
Michelle attended Springdale High School and was a cheerleader[3]. During this time, she struggled with self-worth and was bulimic[4]. She graduated in 1984.
Michelle became a Christian while in high school. It was through her faith that she would come to meet Jim Bob Duggar. He and a friend were on church visitation. They tried to visit a few people, but no one was home, so the friend suggested that they visit Michelle, who had recently become a Christian. While Jim Bob claims it was love at first sight, Michelle does not remember this encounter.[5]
The first time Michelle remembers meeting her now-husband was the next year. She applied for a job at a local yogurt shop that Jim Bob's mother happened to be managing. She was hired at Jim Bob's encouragement and shortly thereafter he asked her out on a date, to which she said yes.[5]
The couple quickly fell in love, with Michelle claiming that she knew Jim Bob was the one by the end of their first date. "Father, I can't imagine anyone better than this that you have planned for me. He's such a godly man," she prayed after their first date.[6]
Family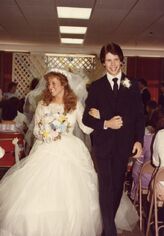 Engagement and Wedding
On Christmas Eve of 1983, Jim Bob proposed in Michelles's parents' living room and she said yes[7].
On July 21, 1984, Michelle and Jim Bob were married at Cross Church in Rogers, AR[8]. The wedding was attended by around 200 people and was done on a budget. Michelle made her own bouquet using fake flowers, and one of her sisters made a floral arrangement for the altar. Michelle also made her own cake, which was decorated by a friend. Furthermore, she did not buy a wedding dress, opting to wear Jim Bob's mother Mary's dress. The wedding ceremony was recorded on cassette[9].
For their honeymoon, Michelle and Jim Bob originally planned to stay at a cabin in a state park, but the reality ended up being very different from the brochure, so they went into town and stayed at a hotel in Fort Smith, Arkansas. Afterwards, they visited Mount Nebo, where they spent a few nights[10].
After the honeymoon, Michelle moved in with Jim Bob. They lived in a 900 square foot fixer upper[10].
Motherhood
For the first few years of her marriage, Michelle was on the birth control pill[11]. She then gave birth to a son Joshua James, on March 3, 1988[12].
After having their first child, Michelle went back on the birth control pill. While on it, she became pregnant with another child. This pregnancy ended in miscarriage in 1989, and a doctor told them it was caused by the pill. They named the baby Caleb despite not knowing the sex[13]. Because of this incident, Michelle and Jim Bob decided to trust their fertility entirely to God and stopped using any birth control[11].
On January 12, 1990, Michelle gave birth to twins Jana Marie and John-David. Feeling that this was God blessing their decision to go off birth control, the couple went on to have sixteen more children: Jill Michelle (5/17/91), Jessa Lauren (11/4/92), Jinger Nicole (12/21/93), Joseph Garrett (1/20/95), Josiah Matthew (8/28/96), Joy Anna (10/28/97), twins Jedidiah Robert and Jeremiah Robert (12/30/98), Jason Michael (4/21/00), Justin Samuel (11/15/02), Jackson Levi (5/23/04), Johannah Faith (10/11/05), Jennifer Danielle (8/2/07), Jordyn-Grace Makiya (12/18/08), and Josie Brooklyn (12/10/09).
Premature Birth of Josie Duggar
Although each birth garnered more attention for the family due to the their large size, the most well-known of Jim Bob's newborns is Josie Duggar. On December 7, 2009, Michelle was rushed to the hospital for gallbladder issues. After the pain generated contractions, Michelle was airlifted to a hospital in Little Rock, AR, to be closer to a NICU center, which the family and doctors did not think would ultimately be necessary.[14] On December 8, 2009, the Duggars posted a video updating fans on Michelle's status. "We'd like to thank everyone for praying for Michelle," Jim Bob said before assuring audiences that Michelle and the baby were both fine and resting comfortably at the University of Arkansas for Health Sciences in Little Rock.[15]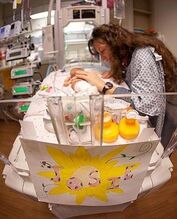 On December 11, 2009, TLC reported that Michelle had given birth to her nineteenth child via an emergency C-section. Josie Brooklyn Duggar, born at only 25 weeks, weighed 1 pound and 6 ounces, and was reportedly stable and in the care of the neonatal intensive care unit at the University of Arkansas for Medical Services.[16]
On December 14, 2009, the family released more information, saying that Michelle suffered from preeclampsia, a rare and potentially life-threatening condition that occurs in about 5 to 8 percent of pregnancies.[17]
On December 16, 2009, the family reported that Josie was doing better. Jim Bob sent an email to ABCNews saying "We are so grateful for all of the prayers and emails of support for our family ... Josie is beautiful and in stable condition."[18]
On April 6, 2010, Josie was released from the hospital. She weighed 4 pounds and 9 ounces, was able to breathe without oxygen, and was eating every three hours.[19]
At 3 am on April 12, 2010, Josie's vital signs began to drop unexpectedly, and Josie was taken back to the hospital. The vital sign fluctuation was determined to be caused by constipation that happened as a result to the fortifiers added to the breast milk. She weighed 4 pounds and 12 1/2 ounces.[20]
On June 3, 2010, Josie was released from the hospital. It was discovered that her digestive issues were being caused by lactose intolerance. She had grown to 7 pounds, 7 ounces.[21] However, Josie was unable to return home to her family at that time, because many of her siblings caught the chicken pox. Instead, she and her mother lived in a rental house near the hospital while the rest of her family returned to their home in Springdale. AR. On June 28, 2010, Josie finally made the trip back to her family's home.[22]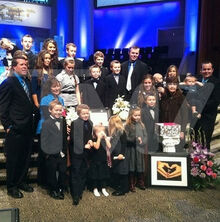 Death of Jubilee Duggar
On November 8, 2011, Jim Bob and Michelle Duggar announced that they were expecting their twentieth child. The couple said they had expected Josie to be their last, but were excited for another child.[23]
On December 11, 2011, Michelle naturally delivered the still born child. She weighed 4 ounces and was 6 centimeters long.[24] On December 12, 2011, the couple set a date for the funeral and announced that they had decided on the name Jubilee Shalom Duggar.[25]
On December 14, 2011, the Duggar family held a funeral for Jubilee, which was held in Springdale, AR, and was attended by hundreds of people.[26] The funeral, which aired on the family's television show, was the subject of some controversy after it was discovered the Duggars displayed photos of the stillborn child at the event.
Josh's Family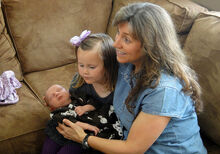 On September 26, 2008, Michelle Duggar's oldest son, Josh, married Anna Keller in Hillard, Florida.[27] The couple has seven children, Mackynzie Renee (10/8/09)[28], Michael James (6/15/11)[29], Marcus Anthony (6/2/13)[30], Meredith Grace (7/16/15)[31], Mason Garrett (9/12/17)[32], Maryella Hope (11/27/19)[33], and Madyson Lily (10/23/21)[34]. Notably, Michelle's oldest grandchild, Mackynzie, is two months older than her youngest child, Josie.
John's Family
On November 3, 2018, Michelle's son John married Abbie Burnett in Ada, Oklahoma.[35] The couple has one child, Grace Annette (1/7/20)[36].
Jill's Family
On June 21, 2014, Michelle's daughter Jill married Derick Dillard in Rogers, Arkansas.[37] The couple has two children, Israel David (4/6/15)[38] and Samuel Scott (7/8/17)[39].
Jessa's Family
On November 1, 2014, Michelle's daughter Jessa married Ben Seewald in Bentonville, Arkansas.[40] The couple has four children, Spurgeon Elliot (11/5/15)[41], Henry Wilberforce (2/6/17)[42], Ivy Jane (5/26/19)[43] and Fern Elliana (7/18/21)[44].
Jinger's Family
On November 5, 2016, Michelle's daughter Jinger married Jeremy Vuolo in Siloam Springs, AR.[45] The couple has two children, Felicity Nicole (7/19/18)[46], and Evangeline Jo (11/22/20)[47]
Joseph's Family
On September 8, 2017, Michelle's son Joe married Kendra Caldwell in Siloam Springs, AR.[48] The couple has three children, Garrett David (6/8/18)[49], Addison Renee (11/2/19)[50], and Brooklyn Praise (2/19/21)[51]
Josiah's Family
On June 30, 2018, Josiah married Lauren Swanson in Siloam Springs, Ar.[52] Early in 2019, the couple announced a miscarriage who they named Asa.[53] They have one child, Bella Milagro (11/8/19)[54].
Joy's Family
On May 26, 2017, Michelle's daughter Joy-Anna married Austin Forsyth in Rogers, Arkansas.[55] The couple has two children, Gideon Martyn (2/23/18)[56], and Evelyn Mae (8/21/20)[57]. They also had a stillborn daughter, Annabell Elise, in June 2019.[58]
Jedidiah's Family
On April 2, 2021, Michelle's son Jedidiah married Katelyn Nakatsu in Arkansas. They have one child, Truett Oliver (5/2/22)[59]
Resume
On April 7th 2004, Michelle was awarded "Young Mother of the Year" from American Mothers Incorporated[60].
Television Appearances
Early Specials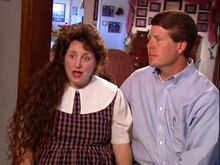 On September 6, 2004, Discovery Health aired the one-hour special "14 Children and Pregnant Again!" This special showed how the Duggar family made their lives work in their 2,450 square foot house. Many of the family's day-to-day activities were shown, including chores, homeschooling, a trip to the grocery store, church, and construction on a house the family was trying to build. The special also included the birth of Jackson Duggar.
On March 13, 2006, a second one-hour special was released, "Raising 16 Children". This special focused more heavily on the construction of the 7,000 square foot home the family had been working on. In the special, the family attends a homeschooling conference thrown by Bill Gothard's Advance Training Institute, although many of the details of this program are left out. At the end of the episode, the family welcomes their 16th child, Johannah Duggar.
Two days later, on March 15, 2006, a third special, "16 Children and Moving In" was aired. This special focused on the family putting finishing touches on their new home and moving in before their old house was demolished.
On June 11, 2006, a fourth special, "On the Road with 16 Children", featured the family going on a road trip across the Western United States. The family visits many locations, including a dude ranch, the Grand Canyon, the Pacific Ocean, and Disneyland.
The final special, "Duggars' Big Family Album", aired on September 22, 2007. This special recapped the previous specials, updated viewers on the family, and showcased the birth of the couple's seventeenth child, Jennifer Danielle Duggar.
17 Kids and Counting
In 2008, the Duggar family began filming a regular series for TLC. The series, initially titled 17 Kids and Counting and updated with the births of the Duggars' final two children, followed Michelle's family through a variety of life events. The series ran from September 29, 2008, through May 19, 2015. There were a total of ten seasons, containing 229 regular episodes and 16 special episodes. Major events included in the series included the births of Michelle's youngest two daughters, Jordyn-Grace and Josie, as well as her oldest four grandchildren, Mackynzie, Michael, and Marcus Duggar, and Israel Dillard, the weddings of three of Michelle's children, Josh, Jill, and Jessa, and the deaths of Michelle's father and stillborn daughter Jubilee. The series was cancelled in the wake of a scandal involving Michelle's oldest son, Josh. A spin-off series, Counting On, which only rarely features Michelle, premiered on December 14, 2015.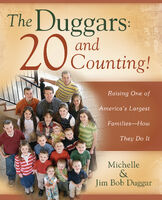 Author Career
On December 2, 2008, Michelle and her husband Jim Bob released a book called The Duggars: 20 and Counting!. The book discussed topics like marriage, parenting, homeschooling, and living debt-free.
On June 7, 2011, Michelle and her husband Jim Bob released a book called A Love That Multiplies: An Up-Close View of How They Make it Work. This book discussed their struggles with Josie's birth and their oldest children preparing for adulthood.
Scandals and Controversies
LGBT Issues
Michelle has come under fire on a few occasions for her ignorance and hatred towards LGBT individuals. In August of 2014, Michelle recorded a robocall that called upon the people of Fayetteville, Arkansas, to discourage the city from allowing transgender women into women-only spaces. In this robocall, she expressed concern that predators could be posing as transgender people in order to gain access to children[61]. In response to this, a petition was created to get "19 Kids and Counting" to stop airing. A counter-petition was also created. Both petitions garnered similar amounts of signatures, and no action was taken by TLC[12].
Also in 2014, Michelle and Jim Bob posted a picture on their Facebook page of them kissing. They asked other married couples to share similar pictures, but it was quickly noticed that photos of same-sex couples kissing were being deleted.[62]
Joshua Duggar's Molestation Scandal
See main article: Josh Duggar molestation scandal
In 2015, it was revealed that in 2002 and 2003, Joshua Duggar had molested four of his sisters and another girl. In the police report, Michelle and Jim Bob admitted that they did not report their son to the police, instead choosing to seek help from church elders. Later, instead of receiving proper help, Joshua was sent to work for a family friend, helping him to remodel a building for three months. The ways in which the Duggar parents addressed their son's abuse of their daughters was the subject of plenty of controversy[63]. As well, the report revealed that the Duggars hit their children with "a rod"[64].
References