Meredith Grace Duggar is the fourth of Josh and Anna Duggar's seven children
Early Life
Pregnancy
On December 3, 2014, Josh and Anna announced that they were expecting their fourth child. Anna said that she was nine weeks pregnant. The couple touched briefly on how this birth would be different than their others due to the family's move from Arkansas to Washington, D.C. "There are so many questions we are trying to figure out now," Anna said. "Are we going to have a home birth, hospital birth, or a birthing center?"[1]
On March 4, Josh and Anna announced via Anna's twitter that they would be having a girl. The couple used this announcement as an opportunity to speak out against abortion, saying "We're thrilled to announce we'll be welcoming a daughter into our family in July, but thousands of little girls suffer the pain of abortion each day. Help protect these children...#theyfeelpain". Her due date was July 10th.[2]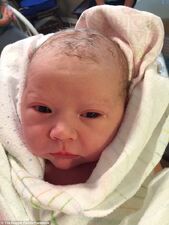 In May 2015, InTouch Magazine obtained and released police reports indicating Meredith's father had been accused of and investigated by Arkansas State Police for sexual molesting five underage girls as teenager circa 2003.[3] On June 9, 2015, the family was seen moving out of their Maryland home and back to Arkansas.
On July 16, 2015, Meredith Grace Duggar was born in Arkansas. She weighed 7lbs 14oz. Her birth was announced three days later by her paternal grandmother, Michelle, who said "we are just rejoicing with Josh and Anna. Meredith Grace is beautiful and Mackynzie, Michael, and Marcus are just loving having their little sister here."[4]
Because of a 2009 interview with Meredith Viera, where Josh and Anna joked about naming their child after her, many speculated if that was where Meredith got her name, possibly as means of getting some good publicity.[5] These rumors were never confirmed nor denied.
Early Life
The day before her birth, a group called The Impact Team had announced that they hacked the database of Avid Life Media, which included AshleyMadison.com, a website designed to help people have affairs. On August 19, 2015, Gawker published an article state that the records The Impact Team had, showed Meredith's father had a paid account as early as February 2013. The account was cancelled in May 2015, when the original scandal broke. Six days later, Meredith's father went to rehab in Rockford, IL.[6][7] While he was gone, Meredith, her mother, and her siblings lived with her father's parents in Tontitown, AR.[8] Her father returned home in March of 2016, and they moved into their own house.[9] 
Resume
Television Appearances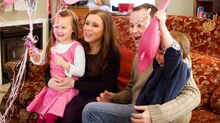 Before she was even born, Meredith was the subject of a number of episodes in season 10 of the TLC show 19 Kids and Counting. These episodes included her parents announcing their pregnancy and throwing a gender reveal party.[10] 19 Kids and Counting was canceled in the wake of her father's scandals, with the cancellation being announced the day Meredith was born.[11] Because of this cancellation, Meredith became the first of Josh's children to not have his birth filmed by a TLC film crew, and the first Duggar child to not have their birth filmed by a TLC film crew since Josh's brother, Justin, was born in 2002.
Later that year, TLC premiered a new series, Jill & Jessa: Counting On, which chronicled the family moving on after Josh Duggar's scandals and the cancellation of their show. Meredith is occasionally seen in the background of this show, but is not the primary focus.
Wedding Involvement
References