Mary Leona (Lester) Duggar was the daughter of William and Ellen (Frankfather) Lester. She was the sister of Billy Lester, Tommy Lester, and Connie Beard. She was married to JL Duggar and together they had two children, Deanna and Jim Bob. At the time of her death, Mary had 21 grandchildren and 13 great-grandchildren.
Early Life
Mary Leona Lester was born on May 26, 1941[1], in Gentry, AR[2] to William and Ellen Lester.[3] She was one of four children.[4] At fifteen, she gave her life over to Christ and became a Christian.[5] Not much else is known about her childhood.
Family
Marriage
Mary married James Lee Duggar in 1960.[6]
Motherhood
On July 8, 1963, Mary gave birth to a daughter, Deanna L. Duggar.
On July 18, 1965, Mary gave birth to a son, James Robert "Jim Bob" Duggar.[1]
Grandchildren
Mary's daughter Deanna had one daughter: Amy Rachelle (9/30/86).[1] Although Amy was born out of wedlock, Deanna married Amy's father, Terry Jordan on March 14, 2006. The two later divorced on December 21, 2015.[7]
On July 21, 1984, Mary's son Jim Bob married Michelle Ruark. They have nineteen biological children as well as an adopted child: Joshua James (3/3/88), Jana Marie (1/12/90), John-David (1/12/90), Jill Michelle (5/17/91), Jessa Lauren (11/4/92), Jinger Nicole (12/21/93), Joseph Garrett (1/20/95), Josiah Matthew (8/28/96), Joy-Anna (10/28/97), Jedidiah Robert (12/30/98), Jeremiah Robert (12/30/98), Jason Michael (4/21/00), James Andrew (7/7/01), Justin Samuel (11/15/02), Jackson Levi (5/23/04), Johannah Faith (10/11/05), Jennifer Danielle (8/2/07), Tyler Wayne Hutchins (2/10/08), Jordyn-Grace Makiya (12/18/08), and Josie Brooklyn (10/10/09).[1]
Great-Grandchildren
At the time of her death, Mary had 13 great grandchildren, all from her son Jim Bob. Her great grandchildren were: Mackynzie Duggar, Michael Duggar, Marcus Duggar, Israel Dillard, Meredith Duggar, Spurgeon Seewald, Henry Seewald, Samuel Dillard, Mason Duggar, Gideon Forsyth, Garrett Duggar, Felicity Vuolo, Ivy Seewald
Death
Mary passed away on June 9, 2019, at the age of 78. Her death was first announced on the Duggar family facebook page.[8] Subsequent posts from many of her grandchildren went up in the hours following her death.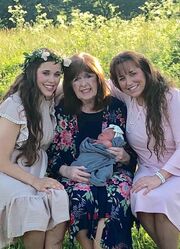 On June 12, 2019, Washington County Coroner Roger W. Morris publicly shared that Mary's death was by accidental drowning. She slipped and fell into the pool behind her house, and was later found by her daughter Deanna, who called 911. She was pronounced dead at the scene.[9]
Posthumous Family
Since her passing, Mary has had additional great-grandchildren. They are: Daxton King, Addison Duggar, Bella Duggar, Maryella Duggar, Grace Duggar, Evelyn Forsyth, Evangeline Vuolo, Brooklyn Duggar, Fern Seewald, Madyson Duggar, Truett Duggar.
References