We're Getting Mutants in the MCU - The Loop
Play Sound
Marcus Anthony Duggar is the third of Josh and Anna Duggar's seven children.
Early Life
Pregnancy and Birth
On March 11, 2013, Josh and Anna announced on the Today show, then via Josh's Twitter, that they were expecting their third child.[1] Josh commented on the pregnancy, saying, "It is very exciting. It's fun for Michael and Mackynzie being so close in age and this baby will be, too. We feel very blessed and happy." Anna had recently taken a negative pregnancy test, and commented, "I thought for sure I was pregnant and so I was a little disappointed. But two weeks later, I found out I was pregnant. I got sick overseas and then when I returned home, I was then into the morning sickness. But now, I have more energy than I ever had before." Josh and Anna broke the news to Josh's family with the assistance of Josh's cousin, Amy, by preparing a family meal of baby carrots, baby corn, and baby cherry tomatoes. Josh's father, Jim Bob, commented saying "Josh and Anna are great parents. It is neat to see their family expanding."[2]
On April 1, 2013, Josh and Anna announced that they were having a boy. The couple found out through a surprise planned by their sound man, Jim, who had the family's friend, Pastor Howard, relay the information in a church service at Restoration Church.[3]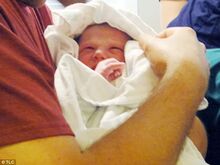 On June 2, 2013, Anna gave birth to her third child, Marcus Anthony Duggar, at the home of a nearby midwife. Josh's sisters Jana and Jill Duggar were there to assist as well. He weighed weighing 9 lb. 3 oz. "Mackynzie and Michael are thrilled to welcome a little brother, and we are so thankful that mom and baby are well. We are blessed to have our family close as we celebrate this gift from God!" Josh said in a statement to the Today show. "It's not really about the number of children you have, but how well you are doing with the children that God has given you. We're really just going to take it one at a time. I don't think you can say we're going to set out and say we're going to have five kids or four or three. We have no control over that. God has the control."[4]
Early Life
In June of 2013, only weeks after Marcus was born, he moved to Oxon Hill, MD, with his family so his father could start a new job working for the Family Research Council. He and his family lived in a 5 bedroom, 4 bathroom home.
On June 9, 2015, amidst a scandal involving Marcus's father, he and his family were seen moving back to Arkansas, where Josh's family lived.[5] When a second scandal broke, Josh checked into a rehab program and Anna took Marcus and his siblings to spend time with her family in Florida.[6] After this time, they returned to Arkansas where they lived with Josh's family until he moved back home in March of the following year.[7][8] Marcus has lived with his family somewhere in northwest Arkansas since then.
Resume
Television Appearances
Before he was even born, Marcus was the subject of a number of episodes of season 7 of the TLC show 19 Kids and Counting. These episodes featured his parents learning they were pregnant, announcing his sex, and giving pregnancy updates. On June 16, 2013, a special episode titled "GrandDuggar Makes 3!"[9] featured his birth. After that, he was regularly featured on the show until its cancellation in 2015.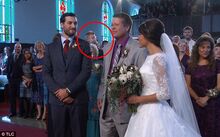 In December of 2015, TLC released a three-part special called Jill & Jessa: Counting On, which focused on the Duggar family as they moved on from Josh's scandals. These specials were picked up as a regular series, which was renamed Counting On. Although he is never the primary focus of the show, Marcus is occasionally featured in the background when attending family events. One notable appearance was when he was seemingly used to block his father, who is never featured, sitting in the crowd at Jinger Duggar's wedding.
Wedding Involvement
References