Jurassic World: Dominion Dominates Fandom Wikis - The Loop
Play Sound
Kelly Jo (Callaham) Bates is the daughter of the late Kenneth H. Callaham, Sr. and Betty Jo Callaham. She is the younger sister of Chip Callaham, Kay Mount, and Kim Adkins, the older sister of Beth and Beka Miller, and the stepsister of William, Ty, and Lee Miller. She is the wife of Gil Bates. Together they have 19 children and 20 grandchildren.
Early Life
Kelly Jo Callaham was born to Kenneth H. Callaham, Sr., and Betty Jo Smith. She was the couple's fourth child, and her mother went on two adopt two more children after her.
Not much is known about Kelly's childhood. At some point when she was a child, her parents divorced. Her mother remarried twice once Kelly was an adult, with her third husband coming after her second husband's death.
Family
Kelly began college at Anderson University, where she met Gil Bates. The two served on the same ministry team, and when Gil needed tutoring for his chemistry class, Kelly was the lab assistant. The two then transferred to Carson Newman University. Gil proposed to Kelly while they were still in school. Gil and Kelly got marred on December 19, 1987.[1]
Motherhood
Although Gil and Kelly had expected to not start having children until they had been married for five years, Kelly got pregnant only a few months after getting married, and on December 30, 1988, the couple's first child, Zachary Gilvin, was born.[1] Just over a year later, Zach was joined by a sister, Michael Christian, on January 23, 1990. The couple went on to have seventeen more children: Erin Elise (5/2/91), William Lawson (7/27/92), Kenneth Nathaniel (8/29/93), Alyssa Joy (11/9/94), Tori Layne (12/20/95), Trace Whitfield (2/1/97), Carlin Brianne (4/11/98), Josie Kellyn (8/4/99), Katie Grace (10/5/00), Jackson Ezekiel (2/17/02), Warden Justice (5/19/03), Isaiah Courage (10/16/04), Addallee Hope (2/17/06), Ellie Bridget (4/28/07), Callie-Anna Rose (8/2/09), Judson Wyatt (9/15/10), and Jeb Colton (2/1/12).
Kelly delivered her first two children in a hospital, but then went on to have the rest of her children at home with the assistance of a midwife.
Kelly homeschools her children, which she has done since her oldest was old enough to begin school. She also trains her children in taking care of a house by giving them chores to help things run smoothly. "We're teaching them that work is fun, so they don't see it as a chore," she said in an interview.[2]
Although friends and family have expressed concern over Kelly's wellbeing having had so many children, she assures people that she is doing fine. "I have not had health issues and have had pretty easy pregnancies," she said in an interview after the birth of her nineteenth child. "We try to live healthy and make wise decisions about our health. We had a peace about the choice we're making."[3]
On November 2, 2013, Kelly's daughter Erin married Chad Paine. The couple has four children, Charles Stephen "Carson" (5/14/15), Brooklyn Elise (8/6/16), Everly Hope (3/30/18), Holland Grace (11/26/19), and Finley Marie (1/18/22)
On December 14, 2013, Kelly's son Zach married Whitney Perkins. The couple has four children, Bradley Gilvin (10/29/14), Kaci Lynn (6/20/16), Khloe Eileen (11/07/19) and Jadon Carl (06/07/21).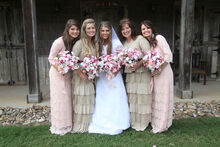 On May 24, 2014, Kelly's daughter Alyssa married John Webster. The couple has four children, Allie Jane (4/11/15), Lexi Mae (1/26/17), Zoey Joy (3/28/18) and Maci Jo (02/09/21).
On August 15, 2015, Kelly's daughter Michaela married Brandon Keilen. Michaela had Kelly as her matron of honor. The couple currently does not have any children, and has been vocal about their struggles with infertility.
On December 16, 2017, Kelly's daughter Tori married Bobby Smith. The couple has three children, Robert "Kade" Ellis Smith IV (11/9/18), Kolter Grey (03/25/20), and Charlotte Raine (6/24/21)
On October 5, 2018, Kelly's daughter Josie married Kelton Balka. The couple has two children, Willow Kristy (7/19/19)[4] and Hazel Sloane (6/14/21).
On May 25, 2019, Kelly's daughter Carlin married Evan Stewart. The couple has two children, Layla Rae (01/31/20)and Zade Patrick (03/27/22).
Television Career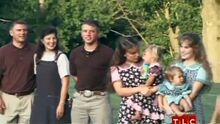 Kelly and her family's close family friends, the Duggar family, premiered their own reality show, 17 Kids and Counting, on TLC in 2008. In the episode "When Big Families Collide", which aired on October 13, 2008, the show's viewers were introduced to the Bates family. Kelly and her family went on to appear in a number of episodes in the show's ten season run.
On March 13, 2012, a special episode of the show "The Bates Family: And Baby Makes 19" premiered, which served as a sort of re-introduction to the family before the premiere of their own TLC show, United Bates of America, on August 13, 2012. The show ran for one season, before announcing on October 6, 2012, that it had been canceled.[5]
On November 18, 2014, the family announced they had begun filming for a second reality show, Bringing Up Bates.[6] Bringing Up Bates, which premiered on UpTV on January 1, 2015, is currently in its sixth season.
Wedding Involvement
References