For a comprehensive timeline, please see Josh Duggar Scandal Chronology
On May 21, 2015, InTouch Weekly published an article with the headline "Bombshell Duggar Police Report: Jim Bob Duggar Didn't Report Son Josh's Alleged Sex Offenses For More Than a Year". This launched a series of articles, from InTouch and from other sources, revealing more details of a scandal involving then twenty-seven-year old Josh Duggar and his behavior as a young teenager.
Scandal and Aftermath
Initial Report
On May 19, 2015, InTouch Weekly obtained a redacted copy of a police report dated December 7, 2006, through a Freedom of Information Act request. According to the report, in March, 2002, James Robert "Jim Bob" Duggar notified the Springdale Police Department of Springdale, Arkansas, that he was told by a female minor that his son, fourteen-year-old Josh, had touched her breasts and genitals while she was asleep. The female minor reported that this happened on multiple occasions. Josh admitted to the offenses and was punished by his father.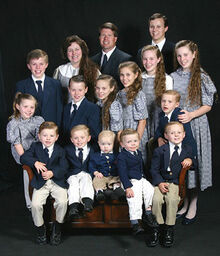 In March of 2003, nine months after the initial act of discipline had taken place, Josh was accused by multiple female minors of touching their breasts and genitals, both in their sleep and when they were awake. Jim Bob "met with the elders of his church and told them what was going on", but did not alert law enforcement.
Josh was sent to a Christian program that required him to do hard physical work while receiving counseling. Josh was in the program from March 17, 2003, through July 17, 2003. When interviewed at the time of the report, Josh's mother, Michelle Duggar, said that it was not a legitimate training center.
"...it was not really a training center. Det. Hignite asked if the guy Josh talked to was a certified counselor. She said no. She said it was a guy they know in Little Rock that is remodeling a building. Det. Hignite asked if the guy was more fo a mentor. She said "kind of".
Upon returning home, Josh "apologized" to the female minors and they had "forgiven" him. In the report, one of the interviewed victims says that Josh "sought after God and had turned back to God." Josh was also taken to talk to Joseph Hutchens, an Arkansas State Trooper and friend of the family. Hutchens gave Josh "a very stern talk", but, despite being a mandated reporter, took no further action. Hutchens was later arrested and convicted of child pornography, and is serving a fifty-six year prison sentence.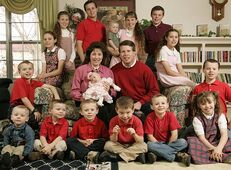 At the time of the interview, several of the alleged minor victims were interviewed, and all stated that Josh had touched their breasts and sex organs.
A family friend who was aware of the situation reportedly wrote a letter about what they knew, but placed the letter in a book and forgot about it. The Duggars claim the letter was found when the book was loaned out shortly before the time of the police report.
The Duggar family was scheduled to appear on the Oprah Winfrey show in 2006, but an unidentified sixty-one-year-old female emailed the show's producers alerting them of the situation. Harpo Studios turned the letter over to the Department of Human Services, which launched the investigation.
The police asked to speak to Josh, but Jim Bob instead tried to hire a lawyer and refused to produce his son for questioning. Multiple lawyers refused the case.[1] By the time the police got involved in 2006, the statute of limitations in Arkansas had passed, preventing further action.
Immediate Aftermath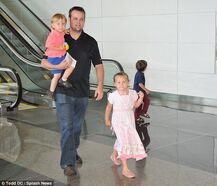 Josh, who had been visiting his family in Arkansas when the report was published, was spotted in Washington D.C.'s Reagan Airport on May 20, 2015. At the time, he and his family lived in Oxon Hill, MD, where Josh worked for the Family Research Council as an executive director of the lobbying arm.
On May 21, 2015, the following statements were published on the family's official Facebook page:
From Jim Bob and Michelle:
Back 12 years ago our family went through one of the most difficult times of our lives. When Josh was a young teenager, he made some very bad mistakes and we were shocked. We had tried to teach him right from wrong. That dark and difficult time caused us to seek God like never before. Even though we would never choose to go through something so terrible, each one of our family members drew closer to God. We pray that as people watch our lives they see that we are not a perfect family. We have challenges and struggles everyday. It is one of the reasons we treasure our faith so much because God's kindness and goodness and forgiveness are extended to us — even though we are so undeserving. We hope somehow the story of our journey — the good times and the difficult times — cause you to see the kindness of God and learn that He can bring you through anything.
From Josh:
Twelve years ago, as a young teenager I acted inexcusably for which I am extremely sorry and deeply regret. I hurt others, including my family and close friends. I confessed this to my parents who took several steps to help me address the situation. We spoke with the authorities where I confessed my wrongdoing and my parents arranged for me and those affected by my actions to receive counseling. I understood that if I continued down this wrong road that I would end up ruining my life. I sought forgiveness from those I had wronged and asked Christ to forgive me and come into my life. I would do anything to go back to those teen years and take different actions. In my life today, I am so very thankful for God's grace, mercy and redemption.
From Anna:
I can imagine the shock many of you are going through reading this. I remember feeling that same shock. It was not at the point of engagement, or after we were married - it was two years before Josh asked me to marry him. When my family and I first visited the Duggar Home, Josh shared his past teenage mistakes. I was surprised at his openness and humility and at the same time didn't know why he was sharing it. For Josh he wanted not just me but my parents to know who he really was -- even every difficult past mistakes. At that point and over the next two years, Josh shared how the counseling he received changed his life as he continued to do what he was taught. And when you, our sweet fans, first met me when Josh asked me to marry him... I was able to say, "Yes" knowing who Josh really is - someone who had gone down a wrong path and had humbled himself before God and those whom he had offended. Someone who had received the help needed to change the direction of his life and do what is right. I want to say thank you to those who took time over a decade ago to help Josh in a time of crisis. Your investment changed his life from going down the wrong path to doing what is right. If it weren't for your help I would not be here as his wife — celebrating 6 1/2 years of marriage to a man who knows how to be a gentleman and treat a girl right. Thank you to all of you who tirelessly work with children in crisis, you are changing lives and I am forever grateful for all of you.
On the same day, Josh resigned from his position at the Family Research Council, submitting the following letter of resignation:
I deeply regret that recent media reports about my long ago past has brought negative attention to FRC Action and its work to preserve and advance the interests of family, faith, and freedom in the political arena.
FRC Action's mission to fortify the traditional foundations of civil society is more important now than ever before, and I'm heartbroken that any attention has been diverted from these noble causes to my wrong actions as a young teenager. I am so thankful for God's grace, forgiveness and redemptive heart that allowed me to transform into a man of faith and testimony.
In good faith I cannot allow Family Research Council to be impacted by mistakes I made as a teenager, so I am resigning as Executive Director of FRC Action. I will continue to pray for the advancements of the causes we believe in and I hope that in the days ahead you will pray for me and Anna as we seek God to discover the next chapter of our lives in His service.
Sincerely, 
Joshua Duggar[2]
Also on May 21, Scott Lewis, a Springdale Police Department public information officer, reported that the police report was expunged at the request of "Jane Doe 1", one of the victims. the request to expunge had been filed on Tuesday, and was processed in two days, which he stated was a normal amount of time.[3] The report was allowed to be expunged due to the fact that one of the victims was still under the age of eighteen.[4]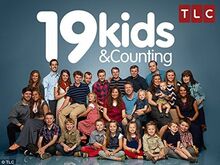 On May 22, 2015, TLC, which aired the family's television show, 19 Kids and Counting, released the following a statement:
Effective immediately, TLC has pulled all episodes of 19 Kids and Counting currently from the air. We are deeply saddened and troubled by this heartbreaking situation, and our thoughts and prayers are with the family and victims at this difficult time.[5]
Mike Huckabee, who was the governor of Arkansas from 1996 to 2007, and had joined the presidential race earlier that month, also released a statement supporting the family on his Facebook page: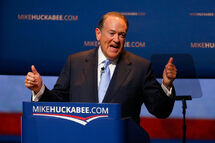 Janet and I want to affirm our support for the Duggar family. Josh's actions when he was an underage teen are as he described them himself, 'inexcusable,' but that doesn't mean 'unforgivable.' He and his family dealt with it and were honest and open about it with the victims and the authorities. No purpose whatsoever is served by those who are now trying to discredit Josh or his family by sensationalizing the story. Good people make mistakes and do regrettable and even disgusting things. The reason that the law protects disclosure of many actions on the part of a minor is that the society has traditionally understood something that today's blood-thirsty media does not understand—that being a minor means that one's judgement is not mature. No one needs to defend Josh's actions as a teenager, but the fact that he confessed his sins to those he harmed, sought help, and has gone forward to live a responsible and circumspect life as an adult is testament to his family's authenticity and humility. Those who have enjoyed revealing this long ago sins in order to discredit the Duggar family have actually revealed their own insensitive bloodthirst, for there was no consideration of the fact that the victims wanted this to be left in the past and ultimately a judge had the information on file destroyed—not to protect Josh, but the innocent victims. Janet and I love Jim Bob and Michelle and their entire family. They are no more perfect a family than any family, but their Christian witness is not marred in our eyes because following Christ is not a declaration of our perfection, but of HIS perfection. It is precisely because we are all sinners that we need His grace and His forgiveness. We have been blessed to receive God's love and we would do no less than to extend our love and support for our friends. In fact, it is such times as this, when real friends show up and stand up. Today, Janet and I want to show up and stand up for our friends. Let others run from them. We will run to them with our support.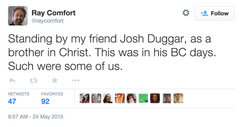 On May 24, 2015, Josh and Anna Duggar shut down their official website.[6]

Also on May 24, 2015 famous preacher Ray Comfort posted a tweet defending Josh, claiming that the offenses took place before Josh was a Christian. This is proven false by the story that had previously been on the couple's website, Josh became a Christian at the age of seven years old. [7]
On May 27, 2015, it was reported that nine months after the investigation in 2006, Josh Duggar, age eighteen, sued the Department of Human Services. A trial was held on August 6, 2007. The results of this trial are sealed, and the family refused to comment on whether they were monitored or required to undergo any form of counseling due to the fact that Josh would be considered an in-home offender.[8]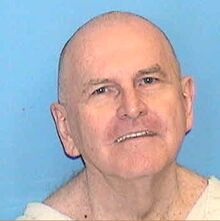 Also on May 27, 2015, Joseph Hutchens, the officer who Jim Bob Duggar claims he initially spoke to when Josh returned home in 2003, spoke out from prison, where he is serving a fifty-six year prison sentence for child pornography. Although he admitted his "reputation is shot", his claim was that Jim Bob's account of their interaction was false:
"[I was told] Josh had inappropriately touched [redacted] during the time she was asleep. He said he touched her through her clothing and he said it only happened one time. I did what I thought was right and obviously it wasn't. If I had to do it over again, I would have told him immediately I am going to call the hotline and contacted the trooper that worked those cases and have a full report made. I thought I could handle it myself. I have lost a lot of sleep over it. I am a Christian myself and I worry that something else may have happened. I would be responsible for it, in my opinion, by not reporting it. The young girl should have been my first priority."[9]
On May 30, 2015, Michelle Duggar shared on her blog that members of the family would be sitting down with Fox News host Megyn Kelly to talk about the event, and that the interview would be broadcast on The Kelly File on June 3, 2015.

On May 31, 2015, Dr. Ronnie Floyd, one of the family's pastors at Pinnacle Cross Church in Rogers, Arkansas, spoke about the scandal, saying:
"Everyone does wrong, and what was wrong was very wrong as to what was testified to and it's completely unacceptable. But I'm thankful, whether it's him or any other one, that I serve a God who can forgive everything. ... All of us were surprised by the news because ... their reputation in Arkansas is that they are a very Christian family."[10]
Second Police Report
On June 3, 2015, InTouch reported that they had obtained a new police report from the Washington County Sheriff's Office. The new report, which had fewer redactions than the previous report, indicated that Josh had committed at least seven acts of sexual molestation, and that one of the victims was five-years-old at the time of the offense. This report clarified that Jim Bob Duggar waited sixteen months before contacting authorities about the molestations, despite knowing that the behavior was getting worse. Had the statue of limitations not expired, Jim Bob and Michelle Duggar could have faced up to six years in prison for their failure to act. According to the new report, Josh confessed to the molestations before any of his victims complained: "James said that in March of 2002, [redacted, Josh] who had just turned 14, came to him very upset and crying. James said that [redacted, Josh] had told him that he had been sneaking into [redacted, his sisters'] room at night and had been touching [redacted] on the breasts and vaginal areas while they were sleeping." The report then details that he went from sister to sister. "[Redacted, Josh] told James that this had occurred 4 to 5 times and had occurred as [redacted] was sleeping on the couch." Jim Bob and Michelle Duggar reported that their children did receive counseling, but would not comment on when the counseling took place or whether or not it was court ordered.[11]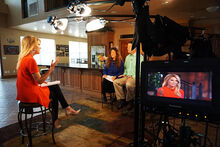 First Official Interviews
On the evening of June 3, 2015, Fox News aired an interview with Jim Bob and Michelle Duggar on their program The Kelly Files. This was the first time the family had spoken about the molestations since their initial statements days after the initial report. They both defended their son's behavior and said they were proud of him for admitting to his sins.
"Looking back, we did the best we could under the circumstances. He was still a kid. He was still a juvenile. He wasn't an adult. This was not rape or anything like that. This was touching someone over their clothes." -Jim Bob Duggar
Jim Bob Duggar also used this interview to defend their choice to let their family be filmed for a reality show, saying, "When they asked us to do that reality TV show, all of this had been taken care of five years before, and we had a clean bill of health from the state." Viewers were quick to point out that 17 Kids and Counting began airing in 2008, which was two, not five, years since the investigation had taken place, and that four TLC specials had been released in 2006/2007, when the investigation had taken place. In the interview, the Duggars stated that they felt the show should not be canceled as it wouldn't be fair to punish the rest of the family for one child's actions. At the end of the interview, a teaser aired for an interview that would be airing that Friday, revealing that two of Josh's sisters, twenty-four year old Jill Dillard and twenty-two year old Jessa Seewald, were naming themselves as victims.[12] Also on June 5, The Kelly Files aired the full interview with Jill Dillard and Jessa Seewald, who both defended their brother: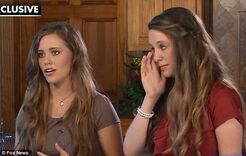 "Well I think in the case of what Josh did, it was very wrong. I'm not going to justify anything that he did or say it was ok, not permissible, but I do want to speak up in his defense against people who are calling him a child molester or a pedophile or a rapist, some people are saying. I'm like that is so overboard and a lie really, I mean people get mad at me for saying that but I can say this because I was one of the victims. So I can speak out and I can say this and set the record straight here. Like in Josh's case, he was a boy, a young boy in puberty and a little too curious about girls. And that got him into to some trouble. And he made some bad choices, but really the extent of it was mild, inappropriate touching, on fully clothed victims, most of it while girls were sleeping." -Jessa Seewald
The sisters claimed they were unaware that the had been molested until their father told them. "I was shocked, like okay this is strange," Jessa stated, "I didn't know, I didn't understand this is what happened."

They also spoke about the struggle to move on as a family:
"I was angry at first, I was like, how could this happen? And then, you know, my parents explained to us what happened and then Josh came and asked each of us, individually I know, he asked me to forgive him. And I had to make that choice to forgive him, you know. And it wasn't something that somebody forced like, Oh you need to do this. It's like, you have to make that decision for yourself. My dad explained to us, he said, 'You know there's a difference between forgiveness and trust. That's not the same thing.' You know, you forgive someone and then you have boundaries. Forgiveness with boundaries. And so trust comes later. You know Josh destroyed that trust at the beginning. And so he had to rebuild that." -Jill Dillard
The two also discussed safeguards the family implemented to insure no future offenses including not being alone, having locks on the bedroom doors to be used when sleeping, and wearing leggings or shorts under skirts.[13]
Jill stated that the publication of the police report had made the situation worse for them: "I see it as a revictimization that's 1,000 times worse. This was something that's already been dealt with. We've already forgiven Josh. We've already moved on."[14]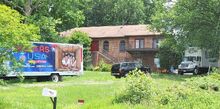 Move Back to Arkansas
On June 9, 2015, Josh Duggar and his family were spotted moving out of their home in Oxon Hill, MD. A local witness spoke to news outlets, stating "Movers were carrying out boxes. The kids' little plastic pool that used to be on the front porch was gone [and] movers were seen carrying moving blankets inside."[15] The couple also hired Steve Nield, a bodyguard who previously worked for Kate Gosselin of the TLC show Kate Plus 8. Nield was spotted telling photographers to leave.
On June 10, 2015, Josh and Anna cancelled a planned public appearance at the Alive Christian Music Festival in Ohio, although Jill Dillard, Jessa Seewald, and their husbands were still slated to attend.[16]
DHS Investigation
Also on June 10, it was reported that the Duggar family was under investigation by the Arkansas Department of Human Services after refusing to cooperate with DHS on May 27. The police were called around 11 am on May 27 after DHS was not allowed to see a minor they were concerned about. It is unknown what the initial concern was about, but a DHS investigation can be triggered by a hotline complaint. It is unknown if this investigation is related to Josh or the family's previous actions regarding his behavior. [17]
Continued Aftermath
Derick Dillard, husband of Jill Dillard, was reported as having quit his job on June 10, despite recent interviews where he praised the company. Speculation immediately began that Derick and Jill would be moving away, possibly overseas, to avoid the spotlight caused by the scandal.[18]
On June 11, 2015, the Moonlite Bunny Ranch of Carson City, Nevada, released a statement banning Josh Duggar from the premises:
"My number-one priority has got to be the safety of my girls. We employ 500 girls at any one time, and we've had tens of thousands of them come and go over the years. With the Duggars having 19 kids, it is just simple math that the odds are much greater than usual that one of their daughters might come work for us at some point. There's no way I would ever put them or any other girl in harm's way, should that brother of theirs come prowling around here. He's persona non grata, starting now."[19]
On June 12, 2015, Arkansas Police Cheif Kathy O'Kelley sent an email accusing the family of slandering her during their Megyn Kelly interview:
"...missed last night [the interview] ...not sure they had a good pr firm or how they arrived at pointing the finger of blame at me - I think I have been slandered and wonder what they will say next."[20]
One June 12, 2015, "Mama" June Shannon, star of the previously cancelled TLC show Here Comes Honey Boo Boo spoke out against TLC, berating the network for failing to cancel 19 Kids and Counting nearly a month after the initial scandal broke while her show had been cancelled merely seven hours after the allegations were made that she was dating a convicted child molester:
"I do think it's a double standard. They're kind of like backing them. They have a lot of high exec people hanging out with them. ... They're telling them what to say, or what to do, or not what to do. Because that's how they worked with us. 'This is what you're gonna say, you're gonna stick to us.' When we went through the cancelling of the show, they wouldn't let us put our own statements out. They wrote them up and they were released to the public as a write-up mock interview. ... What Josh did and what happened to the Duggar family was a whole lot worse than what we were doing. I didn't cover up anything, I was honest from the very beginning. I didn't touch anybody, I didn't lie. I haven't lied. The kids have not lied."[21]
First Social Media Posts
On June 16, 2015, Josh and Anna Duggar broke their social media silence, sharing posts wishing their oldest son, Michael, a happy birthday. "Happy 4th Birthday Michael James #Big4 #HappyBirthday #Michael" Josh posted on both Twitter and Instagram, along with a photo of the child. "So glad to be in Arkansas celebrating Michael's 4th birthday - we love you Mikey!" Anna posted on Instagram along with a video of Michael blowing out his candle. The official Duggar family Facebook page also posted a birthday wish, saying "This boy is 4 years old today! He is clever and he is kind. There was a time we could not imagine anything as amazing than being parents. Now, we are grandparents too and we absolutely love everything about it! Happy, happy birthday Michael! Grandma and Grandpa Duggar love you so much!"[22]
On June 26, 2015, Jill and Derick Dillard announced on their blog that they would be moving overseas to pursue missionary work. This renewed the speculation that they were leaving the country to avoid the negativity surrounding the family because of the molestation scandal.
19 Kids and Counting Cancellation
On July 16, 2015, TLC announced that they 19 Kids and Counting had been cancelled as a result of the scandal.[23] Jim Bob and Michelle Duggar released the following statement on Michelle's blog:
Today, TLC announced that they will not be filming new episodes of 19 Kids and Counting.
Years ago, when we were asked to film our first one hour documentary about the logistics of raising 14 children, we felt that it was an opportunity to share with the world that children are a blessing and a gift from God.
We are so thankful for our film crew that has shown up at our house for over a decade. They have become like family to us. They have invested their time and energy into our lives and have been so loving and patient. We love and appreciate them so much!
Over the last several years people have said to us, "We love your show!" We have always responded, "It's not a show, it's our lives!" Our desire in opening our home to the world is to share Bible principles that are the answers for life's problems.
With God's grace and help Josh, our daughters and our entire family overcame a terrible situation, found healing and a way forward. We are so pleased with the wonderful adults they have all become.
It is our prayer that the painful situation our family went through many years ago can point people toward faith in God and help others who also have lived through similar dark situations to find help, hope and healing, as well.
We appreciate the love, support, prayers and kindness extended to us by many of you. You have deeply touched our hearts and encouraged us, during this time.
God's faithfulness and goodness to us, along with His abundant grace have given us strength and joy even in the most difficult days.
We have committed to Him that in all things—difficulties or success, good times or bad—we will purpose to bring Him honor by staying true to our faith and our family.
We look forward to working with TLC on this upcoming special documentary and hope that it is an encouragement to many.
We know Who holds the future and are confident that He will work all things together for good.
We love each of you and look forward to unfolding the future with peace and joy.
With Gratefulness,
Jim Bob and Michelle Duggar family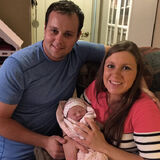 In TLC's statement, they said, "TLC has been especially concerned for the victims in this situation, including the Duggar family, and it is our hope that this effort will help those in need learn where to turn for information and help." They also announced they would be filming a documentary about the scandal.[24]
Birth of Meredith
On the same day, Anna Duggar gave birth to the couple's fourth child, Meredith Grace Duggar. They held the announcement for a few days before Josh announced the birth via Instagram: "Announcing the arrival of Meredith Grace Duggar - 7 lbs 14 ozs, 20-1/2in. Anna and Meredith are resting & doing well!"[25]
On August 19, 2015, Josh's cousin, Amy Duggar, gave a statement saying she was unaware of the molestation and was not a victim:
I didn't know about it. It took me by surprise. ... I knew that he did go away for a little bit, but I didn't know why. ... I was not part of it at all. I wasn't anywhere near any of that."[26]
Second Scandal
As time passed, the discussion regarding the scandal seemed to be winding down. The fate of 19 Kids and Counting was still unknown. On August 19, 2015, People Magazine featured Jill Dillard and Jessa Seewald on the cover of their magazine with the headline "The Duggars Now: Life After Scandal". In the article, Jill and Jessa discussed how they were moving on with their lives post-scandal, with Jill and her family moving to El Salvador and Jessa and her husband preparing for the birth of their first child.[27]
Only days later, in the wake of the Ashley Madison data breach, a second scandal regarding Josh Duggar was discovered. Reports published on August 19, 2015, revealed that it had been discovered that Josh had two paid accounts on the website Ashley Madison, a service that assists married people in having affairs. According to information found in the data breach, Josh spent as much as $986.76 on the site, including paying for a guaranteed affair.[28] See main article: Josh Duggar Ashley madison scandal
Jill & Jessa: Counting On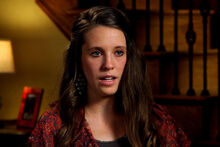 On December 14, 2015, TLC aired the first in a three-part series of specials, Jill and Jessa: Counting On. The specials featured Jill Duggar and Jessa Seewald, as well as many of the other Duggar siblings, as they worked to move on from the scandals and the cancellation of their family's show after being on air for a decade of their lives. In the show, the sisters said they felt betrayed by Josh for allowing them to defend him when he had another skeleton in his closet.
"Derick and I talked about how earlier this year when Jess and I were talking with Megyn Kelly, we wanted to say the truth, and I feel like we did that. Looking back, I still would have done that - I still would have said the truth of what happened - but knowing now what Joshua was hiding, I feel like it wasn't right for him to let us speak our words without having the full knowledge of what he was hiding." -Jill Dillard[29]
On the second episode, released December 21, 2015, Anna Duggar spoke out about the scandals, saying that even though she knew about Josh's past indescritions, it "still wasn't easy reading through it and having to almost relive what Joshua had done." Anna spoke highly of Josh's sisters, saying they had been a tremendous source of comfort throughout everything. When asked about her current life, Anna reported that she and her children were living with Josh's parents while Josh was at a "Christian recovery program", which she said was his choice. Anna said that she would not be leaving Josh over either scandal.[30]

On the third episode, released December 28, 2015, Michelle Duggar is interviewed as well, but mostly about the birth of Jessa's son, Spurgeon. The episode focused mostly on the life post-scandal. [31]
On February 23, 2016, TLC announced that they would be picking up Jill & Jessa: Counting On as a regular show.[32] The title was changed to Counting On as more of the Duggar children began to enter relationships and get married. As of August 1, 2017, the show has had three seasons. Jim Bob and Michelle Duggar, who are still viewed negatively by many due to how they chose to handle the molestations, are rarely featured, while Josh has not appeared on the show, even when attending featured events such as the weddings of two of his sisters, Jinger and Joy-Anna. Anna Duggar and the couple's four children are frequently featured on the show. The molestation scandal has not been discussed on the show since the initial episodes.
2017 Lawsuit
On May 19, 2017, Jill Dillard, Jessa Seewald, Jinger Vuolo, and Joy-Anna Duggar sued In Touch Weekly, Springdale, Arkansas, and Washington County, Arkansas, for breach of privacy. The four women claim that they were promised confidentiality when speaking to investigators in 2006.[33] Jill tweeted about the lawsuit, saying "We hope our lawsuit will send a clear message that release the names of juveniles is never okay."
On June 6, 2017, Josh Duggar joined the lawsuit, stating he faced "unwarranted public scrutiny" after the police reports were published.[34]
On June 9, 2017, Josh filed his own lawsuit, claiming his right to due process was violated and his privacy was invaded. He sought $75,000 in damages, lawyer's fees, and a jury trial. A spokeswoman for Springdale relased a statement saying "It is unfortunate that now, at this late date, the plaintiff has chosen to file a misguided lawsuit against dedicated public servants and seeking damages from public tax dollars."[35]
On July 1, 2017, officials from Springdale asked a judge to throw out the federal lawsuit, claiming they have immunity.[36]
On July 10, 2017, Washington County attorneys filed a motion asking that a current employee and a former employee be dismissed on the grounds that they were immune under federal law.[37]
On July 24, 2017, the four women opposed a request for immunity from Washington Count, Arkansas, arguing that immunity should not be granted if the defendants were knowingly violating their rights. [38]
On February 9, 2022, Judge Timothy Brooks (the same judge who presided over Josh's federal trial) dismissed the lawsuit.[39]
Identity of Victims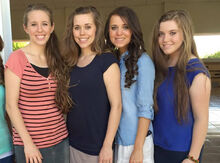 On June 3, 2015, a teaser for a to-be-aired interview revealed that two of Josh's sisters, Jill Dillard and Jessa Seewald, had named themselves as victims. [40]
Due to the fact that one of the victims was said to be five years old at the time of the molestation, it was generally accepted that Josh's sister, Joy-Anna Duggar, is one of the victims.
When Jill Dillard, Jessa Seewald, Jinger Vuolo, and Joy-Anna Forsyth filed their lawsuit in 2017, this confirmed that they were the four sisters victimized.
The identity of the fifth victim is currently unknown.
2021 Trial
In 2021, during Josh's trial on CSAM charges, the judge allowed (over objections from the defence) for testimonies from Duggar family friends the Holts regarding the molestations to be included into the evidence for the jury to consider. They later found him Guilty.
References