We're Getting Mutants in the MCU - The Loop
Play Sound
On Tuesday, November 30, 2021, at 9:00 CST, The United States of America v. Joshua James Duggar trial began in the United States District Court, Western District of Arkansas, Fayetteville Division. For the history of this case, please see the Federal Arrest Scandal page and the Chronology.
Please note that the below page contains references to Child Sexual Abuse, hereby referred to as CSA, and sometimes as Child Pornography as that is the current legal term.
Background:
On November 8, 2019, Josh's car lot was raided by Homeland Security Investigators. At the time, the family denied anyone within their family was under any sort of investigation by local, state, or federal agencies. Seventeen months later, on April 29, 2021, those statements were proven false when Josh was arrested by US Marshals on behalf of an arrest warrant issued by Homeland Security. He was arraigned the next day, where he pleaded not guilty. After that, he spent six nights in jail before his bail hearing on May 5, 2021, when he was released pending trial.
At the bail hearing it was revealed that Josh was in possession of 265 images of naked minors, including files that depicted child sexual abuse involving toddlers as young as 18 months old and children as old as 12 years. (At the time of his bail hearing, his youngest daughter was seventeen months old and his eldest daughter was 11 years old.) HSI SA Gerald Faulkner testified that the images he saw were "in the top five of the worst of the worst that I've ever had to examine".

Charges
Josh has been charged with one count of receiving child pornography* and one count of possessing child pornography*. If convicted, he faces up to 20 years in prison and fines up to $250,000 on each count. Should he be convicted, a federal district court judge will determine his sentence.
Count 1: Receipt of Child Pornography*
Between May 14 and May 16, 2019, Josh knowingly received child pornography* This is in violation of Title 18, United States Code, Sections 2252A(a)(2) and (b)(1). Offence Level: 4.
Count 2: Possession of Child Pornography*
Between May 14 and May 16 2019, Josh knowingly possessed material that contained images of child pornography*, including images of minors under the age of 12, in violation of Title 18, United States Code, Sections 2252(a)(5)(B) and (b)(2). Offence Level: 4.
*This is still the legal term and therefore being used in this context. For our offical statement on the use of this term, please below.
Pre-Trial Motions
As with any criminal case, several pre-trial motions were filed. Josh filed motions to exclude statements he made, including the unprompted "has someone been downloading child pornography" statement, exclude pictures of his hands and feet, dismiss the case all together, and request a frank hearing, where he questioned the validity of the initial search warrant on the car lot. These motions were all denied.[1][2] He also filed motions to exclude evidence relating to the Ashley Madison scandal, exclude references to his refusal to answer certain questions during his initial meeting with HSI SAs, and exclude "opinion testimony" such as labeling certain CSAM files found on the devices as "top five of the worst". These motions were granted.[1][2]
The government also filed several motions. It filed a motion to include the HP laptop seized during the raid; this motion was granted. The government also filed motions to include Josh's public statements regarding the Ashley Madison scandal, and to exclude Josh from placing the blame on others' in his defence. These motions were both denied.[3]
Pre-Trial Evidentiary Hearing
An evidentiary hearing was set for November 29, 2021 regarding two mirror motions. The government filed a motion to allow evidence/testimony regarding the molestation accusations against Josh dating back to 2002. The defence objected for several reasons, citing Josh was never arrested for those crimes and the government did not give adequate notice. Both Jim Bob Duggar and Bobye Holt testified during the pre-trial hearing.[4]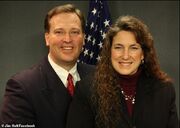 The following day, Josh's lawyers filed an additional motion, claiming Bobye's testimony should not be allowed due to her being clergy and thus the conversations were privileged.[5] The government also filed a motion disputing this claim, citing Bobye's testimony at the pre-trial hearing where she said she was not clergy and the conversation was between parents.[6]
The Attorneys
The Prosecution
William G. Clayman - Department of Justice (DOJ) in Washington, DC
Carly Marshall - US Attorney's Office in Fort Smith, Arkansas
Dustin S. Roberts - US Attorney's Office in Fort Smith, Arkansas
Candance L. Taylor - US Attorney's Office in Fort Smith, Arkansas
The Defense
Travis Wayne Story - Story Law Firm in Fayetteville, Arkansas
Gregory F. Payne - Payne Law Firm in Fayetteville, Arkansas
Ian Talbot Murphy - Marguils Gelfand LLC in St Louis, Missouri
Justin Gelfand - Marguils Gelfand LLC in St Louis, Missouri
The Trial
Day One (November 30, 2021)
Anna was the only family member to attend court on this day.
Court convened at 9:16 am and adjourned at 6:08 pm. Over that nine hour period, the jury was selected with twelve jurors and four alternates.[7] It was revealed that both Jill Dillard and Jedidiah Duggar may both be testifying in the trial; Jim Bob will not be testifying. As of the close of Court, no order has been filed as far as the last minute motions regarding Bobye Holt's testimony on the molestation, but she and Jim are on the potential witness list. [8]
During jury selection several potential jurors were dismissed for various reasons, including one man who said his daughter was married to one of Josh's brothers.[9]
Judge Brooks asked several questions of the pool, including whether they had been exposed to any media related to this specific case and/or to the Duggar family in general. He informed the potential jurors of the evidence that will be presented, explaining that images and details relating to CSAM would be introduced. This was done to give people a chance to excuse themselves if they felt they could not handle it; no one did so.[9]
Lawyers for both Josh and the government were given a chance to speak to the potential jurors and ask them questions, such as what they did for a living, what they liked and disliked about their jobs, if they ever owned/operated a small business, if they considered themselves an IT enthusiast. [9]
Court was set to resume the following day at 8:45 am, with a pre-trial conference set to begin at 9 am.
Day Two (December 1, 2021)
After opening statements, one of the alternate jurors was dismissed due to a minor medical emergency
In addition to Anna, Derick Dillard and Austin Forsyth were also in attendance.
At the start of Court, Judge Brooks issued his order on the "Motion in Limine to Admit Evidence of Defendants Prior Child Molestation Conduct". This motion was granted, meaning the evidence will be admitted in court and the jury will in fact hear about it.[10]
Court convened at 9:07 am and went to recess at 12:05 pm. Judge Brooks began by giving the jury detailed instructions on how to handle the case, reminding them that Josh was considered innocent until proven guilty. "For the evidence, you will decide what the facts are. You may use reason and common sense." He told them they were the sole judge of the facts and they were not to allow sympathy or prejudice to influence them. Josh is only on trial for CSAM found on his computer, nothing else.[11]
Judge Brooks also outlined for the jury what the prosecution must do in order to prove their case beyond a reasonable doubt. He told them that the burden is on them to decide what testimony they believe, in part or in whole, based on the witness' memory, demeanour, intelligence. He also went over specific rules the jurors must follow to ensure a fair trial. Those rules include: not discussing the case with each other until deliberations, not talking with anyone else about it, and not doing any research of their own or consuming media of any kind related to the case.[11]
Opening Statements
At 9:37 am, Assistant United States Attorney Dustin Roberts gave his opening statement. He explained the charges and went into detail regarding the files (images and videos) that will be shown to the jury. These files involve girls as young as seven years old. He made a point to say these girls were "sexually abused and sexually violated", saying he will be asking them to hold Josh accountable and find him guilty.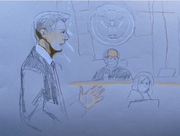 He explained how the process worked to find who was sharing these files and how the police came to find the person responsible: Josh. He then went on to discuss the search of Josh's used car lot, saying one of Josh's first statements during the interview was "So what, guys, was someone downloading child pornography?" Roberts also noted the devices that were confiscated: an iPhone, a Macbook, and an HP All-in-One desktop, saying Josh told officers he used them for both work and personal reasons. Lastly, he explained how Josh has "Covenant Eyes" installed on his computer and how he bypassed it by partitioning part of his harddrive.
The Prosecution finished its opening arguments with this powerful statement: "Our case is based on fact, evidence, and common sense."[11]
Josh's lead counsel, Justin Gelfand, began his opening statement at 10:02am. He stated to the jury "if you like a good mystery, then this is the case for you". He accused the investigators of burying "their heads in the sand" over the course of the thirty month investigation and asked "why does it have to be Josh?". Gelfand went on to explain the case as a "classic, old-fashioned whodunnit", although acknowledged the court would see some "disturbing images".
Gelfand further explained that the defense's case would focus on a "forensic trail", and followed this statement by questioning the actions of the investigators. He commented that it was approximately one month before the files, and the case, were brought to federal agents, who he claimed had done "virtually nothing". Gelfand went on to describe difficulty in finding a specific location related to the charges and added that at one point, officers had turned up to the wrong house.
He stated that "details matter" several times, before adding that nine devices were seized, despite only two of those being personal products of Josh Duggar's. He then went on to state "Josh is a Mac guy", and that no child pornography was found on his Apple personal devices.
Gelfand went on to cover an explanation of thumb drives that were confiscated during the investigation, after he stated that "computer forensics is as close to DNA as you get".
In regards to the car lot HP computer with Linux software, Gelfand again commented that the investigation was insufficient. He also commented that it contained a default user name, and added that the prosecution "didn't check who the Dell user is".
He then went on to say that while Josh is a "great guy", his only education was formed by homeschooling and a GED at age 16, and stated that he "is not a computer genius". Gelfand then stated that other individuals had access to the above computer, going into details about the specifics of the programs and applications within the forensic details, specifically the files, file sharing, and Bit Torrent. He added that an expert in the field will be one of the key witnesses.
At 10:32 am, opening statements concluded, and after a short break, the prosecution called their first witness.[11]
Witnesses
Detective Amber Kalmer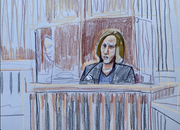 The first witness called to the stand by the prosecution was Detective Amber Kalmer, a thirteen year veteran of the Little Rock Police Department. After giving her professional background, which includes her current position working with the Internet Crimes Against Children task force, she discussed peer-to-peer sharing, saying it is "one of the most common ways to share child pornography". She explained how law enforcement has its own software that gathers information on files of CSAM being transferred, such as IP addresses, geolocations, and "hard values" that are "like thumbprints" for individual files.[11]
Det. Kalmer testified she was using the software on May 14, 2019, when it connected with an IP address in Springdale. The user sent a video file and a ZIP file that contained around sixty-five CSAM images over a two day period. At that point, some of the files were shown to the jury.[11]
It was then the defense's chance to cross examine. Gelfand stated, once again, "details matter" and asked her very detailed questions about Bit Torrent. When Det. Kalmer stated it is common practice to leave the program running 24/7, he asked if she was there when the connection occurred. She could not verify that she was. He then asked about the logs, which noted several "unsuccessful attempts" to connect over a 40 minute period.[11]
Det. Kalmer did note that she didn't make police reports or logs of her activity before she handed the case over the HSI SA Faulkner.[11]
The prosecution then asked one simple question on redirect: did she feel she was the "be all, end all" of the case. She replied: "Absolutely not".[11]
It was at this time Judge Brooks called for a lunch recess.
HSI SA Faulkner
Court reconvened at 1:50 pm.
Assistant United States Atty Dustin Roberts once again took the lead, calling HSI SA Faulkner to the stand. Faulkner gave his professional background, which includes a twelve year career with Homeland Security, as well as his membership on the Internet Crimes Against Children task force, which started in 2010. He stated he had worked on nearly 1000 cases with several hundred of them being related to CSAM. After that, the prosecutor and SA went over much of the same details regarding the programs and tools used. He told the jury there are three specific things he looks in his investigations: any and all electronic devices capable of file sharing, any devices with child pornography* present on them, determining whether someone was physically using a computer on the dates that crimes occurred.[12]
Although Josh downloaded the files in May 2019, Det. Kalmer did not contact Faulkner until June; he accepted the case in July and soon discovered the ISP was Ozarks Go and flagged the IP address. At that point he served a summons for the information, which included when the service was provided, what kind of service was provided, and to where it was provided. By October it was discovered that Ozarks Go had been contacting him with an incorrect email address.[12]
Faulkner explained that they had originally planned to serve a search warrant on October 31, but the property in question had been split recently, sending them to the wrong address. They quickly realised their error was due to using "outdated" mapping records. They corrected this and served the search warrant at Josh's car lot on November 8, 2019.[12]
They surveyed the car lot before serving the warrant and deemed it appropriate to use a "soft approach" since there were no "threats or firearms" present. In order to not create any kind of biased witness statements, Faulkner explained that they do not reveal the type of case they are investigating, simply the evidence they are looking for, which was "items of evidentiary value" including "digital contraband". The search took about two and half hours, starting at 3:15 pm and ending around 5:45 pm.[12]
Faulkner explained that at the time of the search, Josh was not under arrest and was free to leave if he chose. He testified that Josh was "calm, with no physical reaction". About 10-15 minutes later, SA Faulkner and SA Aycock asked Josh if they could talk; he agreed to make a statement and to having the interview recorded. However, before the recording device had been turned on, he says Josh said "What is this about? Has somebody been downloading child porn?"[12]
At this point the jury was informed that they would hear Josh's interview in three parts and would also receive a transcript of the interviews. The judge told them "It is what you hear that is evidence, not what you read".[12]
Josh's interview began by him providing personal information and confirming that he was the owner of the car lot. He also explained that family members and employees routinely had access to his electronic devices. He said his iPhone 11 was relatively new (it was only released on September 20, 2019) and his Macbook Pro was about five years old while his HP desktop was about three years old. He also told them that there were several thumb drives there, explaining that he commonly found them in cars so he couldn't be sure if they were his or not, but he did wipe some of them and use them for pictures of cars.[12]
The interview continued with the agents asking Josh if he was familiar with peer-to-peer sharing, such as Napster. He said he had heard of it despite it being before his time. He admitted that all the devices had peer-to-peer file sharing software on them and that a friend had installed a Tor browser for him to share files as well.[12]
Faulkner stated for the jury that Tor was primarily used to access the dark web and it made it difficult or impossible for a device's IP address to be tracked. It was at this time that they asked Josh if he meant Tor or (Bit) Torrent, but Josh didn't seem to understand the difference, saying he didn't "recall" the purpose of the Tor browser and saying he "(couldn't) speak to that".[12]
At that point Josh started to ask more questions, asking if something was going on with his devices and if his IP address had been marked, which was confirmed by Faulkner and Aycock.[12]
Faulkner further explained to the jury that Tor is used to access the dark web and is the source of many illegal things, including CSAM and even actual children, who can be bought as part of the child trafficking circles. Roberts asked Faulkner if a car lot would ever need to use a dark web browser, to which he said "No, sir. I would not think the dark web would be the best place to do that".[12]
The final part of the interview continued with Josh asking more questions, such as if the case was directly connected to a certain IP address and if the device in question was "transmitting or receiving" illegal images. One of the agents told Josh it would be best if he would just listen. "We don't want to speculate. That's why we came here". They told him they would be investigating the "digital fingerprint of everything that ever happened" on all the electronics they seized.[12]
Josh then made the following statement: "I'm not denying guilt. I don't want to say the wrong thing"[12]
The prosecution then provided additional evidence for the jury: payroll records for the car lot. The papers show no records were produced for the dates in question, May 14-16, 2019, despite having months worth of payroll records.[12]
The defense began their cross examination, which lasted just under an hour, before reaching "a natural stopping point". They continued their cross examination in the following morning.[12]
Court adjourned for the day at 5:03 pm.[13]
Day Three (December 2, 2021)
Several members of the family attended court, including Anna, Derick, Austin, Joy, Justin, Hilary Spivey, and Robby Spivey III.
Witnesses
HSI SA Faulkner (continued)
Court began with Josh's lawyers continuing their cross examination of HSI SA Faulkner. They raised such questions as as to whether any hacking was involved in any of the devices found during the initial search. Faulkner confirmed that had any evidence of hacking being present they would have investigated it, but no such evidence existed so they did not investigate.[14] They also asked why only Josh's devices were taken and searched. Faulkner said they found no probable cause for a search warrant on anyone else's devices.[15] At one point, Josh's lawyers mentioned Caleb Williams, who was also a former employee of Josh's. The prosecution objected twice, citing that Caleb was in Illinois in May 2019.[16]
Next, Josh's lawyers asked if a Tor browser could be used for "normal" web surfing. Faulkner said it could but it's mainly used for accessing the dark web and obtaining CSAM, adding "you can purchase children through the dark web".[15]
Faulkner added that because he was so shocked, he "100% remembers" Josh asking if someone had been downloading child sex abuse materials, just before they started recording their interview with him.[17]
During his redirect, Assistant United States Attorney Dustin Roberts asked Faulkner again if he would have investigated any instances of hacking or remote access or Caleb Williams being at the car lot had any evidence surfaced suggesting any of those possiblities. He said he absoultey would have.[16]
Matthew Waller
The next witness called to the stand was Matthew Waller, David Waller's brother (David is married to Priscilla [Keller] Waller, Anna Duggar's sister). He testified that he was the only employee at Josh's car lot from January to April 2019, saying he only ever saw Josh and himself using the computer in the office where the CSAM was found. During cross examination, Josh's lawyers asked him if he remembered the password "intel1988" and he said he did, saying it "faintly rang a bell". They also asked him who else frequently stopped by the car lot. He testified that a man named William Mize as well as "a few of Williams" family members (Caleb Williams' family).[16]
On redirect, the prosecution called him out on his sudden recollection of the passwords, saying he initially told investigators he didn't remember any passwords and implied Matthew had been coached by Josh's team.[18] Roberts questioned him again, saying "you were hiding it from me?" and asked him if Josh's lawyers told him things he didn't actually remember. Matthew agreed that they had.[16]
Jeff Wofford
Jeff Wofford, the Vice President of Technology at Covenant Eyes, was the next witness called by the prosecution. Covenant Eyes is a subscription service that allows users (who previously accessed porn) to overcome their reliance/stop viewing porn, by offering a secure partner accountability service with a trusted friend/family member, and notifying the partner when the user views things 'beyond their set level'.[19]
Jeff explained that Josh and Anna subscribed to the service around 2013. He said that they had set Josh's viewing level as 'mature teen', which would not allow any access to pornography. Jeff added that Covenant Eyes does not monitor content accessed via Linux operating systems, because it isn't as commonly used as other other operating systems (e.g. Windows, or iOS), and stated that someone could use Linux on their computer to avoid the Covenant Eyes software.[19]
Josh had Linux installed on his computer.[19]
HSI SA Jeff Pryor
The next witness called was HSI SA Jeff Pryor. He testified that he took evidence photos at the car lot during the search, including a large computer monitor with a family photo of Josh and Anna and their (then) five children. He also confirmed the other devices seized, which included Josh's Macbook, his iPhone, a digital recording device, and several thumb drives and SD cards. The router itself was not taken as it had been cleared by forensics.[20]
It was at this point that Judge Brooks called for a recess for lunch.
HSI CFA Marshall Kennedy
Court reconvened at 1:50 pm. Prosecutors called Computer Forensic Analyist (CFA) Marshall Kennedy to the stand, who also works with Homeland Security on the Internet Crimes Against Children task force.[21] Kennedy examined the devices taken from Josh during the search. He confirmed that no CSAM was found on Josh's Macbook or iPhone. He also confirmed that no CSAM was found on the Windows side of Josh's work computer either, the side installed with Covenant Eyes.[22] He also testified that they did not review the router at the car lot since they don't really hold any relevant information, and that they did not investigate any remote access being used on the desktop computer, which did have CSAM on it.[23] Kennedy informed the jury that while someone can still view that material on devices, traces of it must be erased with special programs that were not found on Josh's other devices.[24]
Director James Fottrell
Next, the prosecution called James Fottrell to the stand, the Director of the High Tech Crimes Unit for the Child Exploitation and Obscenity division for the DOJ in Washington, DC. He testified that he found all the CSAM on the part of Josh's computer that was running Linux, which was protected by the password "intel1988"[25][26]
The jury was then shown the dozens of thumbnails of the files Josh downloaded depicting CSAM, all of which were downloaded to the Linux side of the computer on May 15 and 16th, 2019.[27] Fottrell delineated the images and videos "in vivid detail" for the jury.[21] While most of the files involved girls between the ages of 7 and 12 years with both adult men and women, one video involved a three to four month old infant "being tortured", as Fottrell described.[28]
Fottrell made it clear to the jury on multiple occasions that these files had to be downloaded by someone physically at the computer, and not by someone using remote access.[29]
Court adjourned for the day at 5:07 pm.[30]
Day Four (December 3, 2021)
The same people attended court as the previous day, including Anna, Derick, Austin, Joy, Justin, Hilary, Robby III.
Witnesses
Director Fottrell (continued)
Court convened just before 9 am, with Director Fottrell continuing his testimony. He walked the jury through the process of examining Josh's devices seized from the car lot, confirming the evidence placed Josh at the car lot on the exact day and time the CSAM was downloaded to the desktop. He also explained that he did in fact look for any sort of tools that would be used to access the computer remotely and did not find any, saying "that's not happening".[31]
Fottrell also described the dark web as "mostly criminal activity", saying it is used for buying and selling guns and drugs, hiring hitmen, selling stolen credit cards for financial crimes, illegal sexual material like the CSAM, "all kinds of crazy stuff". [32]
Prosecutors submitted dozens of pieces of evidence, including geolocation data, which proved Josh had taken pictures and sent text messages from the car lot at the exact times the CSAM was being downloaded.[31] Fottrell also named some of the files that were found on Josh's computer, incluidng two infamous files which include young girls and toddlers being sexual abused.[32]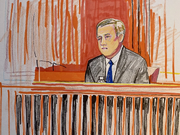 Fottrell was also able to detect that after the CSAM was downloaded in May 2019 on the Linux side of the computer, the background was changed and a new document file was created: a sales document from June 22, 2019 where the salesperson's name was "Josh".[32]
The prosecution ended their questioning with one last question: "Who was present at the car lot every single time child pornography* was downloaded?" to which Fottrell replied: "Josh Duggar".[31]
Josh's lawyer, Gelfand, started their cross examination by asking Fottrell about his experience and resources. He also tried to stir up doubt by differentiating between the actual HP desktop itself and the "forensic snapshot" taken of it. Fottrell explained that they make a virtual duplicate of the computers to work on them for their investigations. Gelfand continued, asking why they didn't seize every single device, to which Fottrell said it was unnecessary and they work with limited resources. He also stated, again, that the Macbook and iPhone did not contain illegal material, nor did the Windows side of the computer.[31]
Once more, Josh's lawyers tried to redirect the jury's attention by pointing out that the router itself was not taken or searched. He asked several questions about evidence and logs that may be on the router. Finally, Fottrell had to say "I think you're starting to become a little misleading".[31]
More questions concerning Covenant Eyes were asked before Court broke for lunch around 12:15 pm.[31]
Court reconvened at 1:39 pm, with Josh's lawyer continuing to question Director Fottrell, mentioning a flash drive containing word documents that had been plugged into the desktop but never seized. He also asked questions relating to the Tor browser and its installation on the computer. Fottrell explained that it was likely downloaded from a Linux app store, and admitted that the browser could be used for "totally legal, benign things". He asked several more questions relating to command shells and command lines before a sidebar was called.[33]
Gelfand, trying to impeach Fottrell's earlier testimony, asked about the virtual computer being connected to the internet when Fottrell had previously said it was never online. Fottrell corrected himself, saying it was connected for five minutes in order to do an update and that it was configured in a way that that brief time online did not leave it vulnerable to being changed or even accessed.[33]
Pressing on, Gelfand inquired about the videos themselves and how they were viewed. Some of the files were streamed instead of being played directly from the harddrive. According to Josh's lawyers, this meant that they could have been accessed remotely or streamed online. Fottrell dismissed that, saying that while it was possible it was "not likely". [33]
He continued to look for any contradiction he could, pointing out that Fottrell had never been to the car lot itself or anywhere in the area for that matter, by attempting to quiz him on the maps the prosecution entered into evidence. Fottrell stated that his conclusion was based on "the totality of the evidence". [33]
On redirect, the prosecution asked Fottrell about the previously mentioned flash drive. He said "the existence of this thumb drive is pretty inconsequential".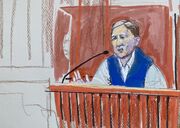 Court adjourned for the day at 5:38 pm.[34]
Day Five (December 6, 2021)
Different family members were in court, including Anna, Derick, Austin, Joy, James, Jason, Laura DeMaisie. Jessa was also reported to be in attendance.
Witnesses
Clint Branham
At the start of Court, the prosecution called Clint Branham to the stand. Currently working in cyber security, he testified he has known Josh for over twenty years, including working with him on Jim Holt's political campaigns. He said Josh was well aware of how computers worked and would be comfortable modifiying hardware. He then testified to a conversation held in 2010 between himself and Josh and Jim Holt, where Josh asked how to install a Linux partition.[35]
Jim Holt
Next, they called Jim Holt to the stand, an old friend of the family. He stated that as a teenager, Josh had helped put together a commerical for him. He also testified to the 2010 conversation with Josh and Clint, saying he had "asbolutley no doubt" Josh asked about the paritition.[1][35]
Bobye Holt
Finally, they called Bobye Holt to the stand, Jim's wife. She testified that Josh confessed to molesting multiple girls in 2003, some as young as five/six years old, touching them in their "private areas" and under their underwear. As she described his confession in vivid detail, through tears, it was reported that Josh stared at the floor. She said she didn't want to testify in court and that she still loved Josh.[35]
On cross, Josh's lawyer asked if she had any first hand knowledge of the incidents at the car lot, to which she admitted she did not.[35]
Prosecutors had a short redirect, where she affirmed that she remembered the confession, saying "you dont forget something like that". Bobye also testified that she had been offered money to tell her story, which she declined. She also did not speak to Josh's lawyers before testifying.[35] She was their third and final witness; the prosecution rested, ending their part of the trial.[36]
At this point, Josh's lawyer requested a Judge of Acquittal. Judge Brooks denied this request.[37]
Michele Bush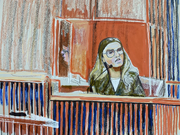 The defense started their case around 10 am with digital forensics expert Michele Bush. Her testimony started with her giving her credentials, saying she has testifed in 23 other cases as an expert and personally conducted over 500 examinations. She reiterated previous testimony that she, like others, works with an exact copy of the device in question. She also confirmed the CSAM was not on the Windows side of the computer and the Linux partition was installed on May 13, 2019, the day before the material was downloaded. Bush also explained that the Word and Powerpoint files were opened from an external device, not on Josh's personal devices. The router was mentioned several times; she said she could not examine it because it was never seized, saying it stores information and maintains logs.[35]
Bush went on to discuss Bit Torrent, explaining how it works and that it was used on Josh's Macbook to download a family movie. She then went on to discuss how programs are installed and noted that one was not used to install Linux. There was a disagreement about whether uTorrent could be downloaded from the Linux app store, leading to a sidebar before breaking for lunch. [35]
Court reconvened at at 1:45 pm with Gelfand continuing his questions for Michele Bush. He pressed the issue of how the Linux partition was installed on the computer, ruling out the use of a specific installer tool. Using archive.org, Bush said she was able to determine the uTorrent app wasn't available in the Linux app store in May 2019. This, she concluded, meant it had to be installed using a command line code. Diving deeping into Bit Torrent and Tor browser, Bush explained that Bit Torrent allows users to share pieces of a file with others, instead of the entire file. She stated that some of the files downloaded were not streamed, and some may have been streamed onto a different device. [38]
Moving on to the router once again, Bush testified that changing ports on one "can be a way to mask your identity." She contradicted Dir. Fottrell, saying one did not need to be present when the files were downloaded, stating one was deleted almost immediately after being downloaded. This "follows the patterns and characteristics" of a "hit and run", she said, telling the jury she believed someone could have been accessing the computer remotely to download the CSAM, and she couldn't tell if anyone was at the desktop at the time the CSAM was downloaded or not. She "disagreed" with Fottrell, saying "there are probably a couple of ways to (boot the systems remotely)". She also testified that the software investigators used only identified the IP address, not the specific device. [38]
Gelfand questioned Bush about the metadata of a photo found on Josh's Macbook. She said the data itself was "unreliable" in the way it was inspected by the government. The prosecution objected to this, leading to a 15 minute sidebar. Bush finished by saying her investigation compiled the "totality of digital evidence seized in this case". [38]
The defense concluded their questioning at 4:48 pm. The judge and prosecution agreed to adjourn court early, allowing the prosecution to begin their cross examination in the the morning.[38]
Day Six (December 7, 2021)
For the first time during the trial, Jim Bob was in attendance.[39] He sat in front of local KNWA reporters C. C. McCandless and Samantha Boyd, telling them "We just want the truth to come out and we appreciate your prayers for our family".[40]
Also in attendance were Anna, Derick, Austin, Joy, James, Jason, Jana, David Keller, and Hannah (Reber) Keller. It was also reported that Maria Reber attended court as well.
Witnesses
Michele Bush (continued)
Court opened with the prosecution begining their cross examination of Michele Bush, the defense's digital forensic expert. For over 90 minutes, they questioned her about her expertise and background, getting her to admit that she's never taken a Linux specific course, or any training at all on Torrential Downpour, and only graduated with her bachelors in 2015.[41] [39][42] Although she previously testified to working on over 500 cases, only about ten of them involved Linux. She even acknowledged that she had been present for Dir. Fottrell's testimony and included information based on his testimony. When asked if she omitted anything relevant in her report, she said she wouldn't have known if any information was relevant at the time. [42]
The prosecution continued to attack her credibility, asking if she ever listened to the interview tape of Josh done on the day the search warrant was executed (no), and if she had seen the photos Josh took with his phone during the times the CSAM was downloaded (no, she only saw photos of the router that wasn't taken). They asked her about the Linux installation, asking if someone had to be there to do it in May 2019. She agreed that someone "most likely" did. When asked why she didn't include the password in her report, she claimed she couldn't recall seeing it at all during her investigation.[42]
Moving on to the Tor browser, Bush admitted that the bookmarked website was a dark web wiki that had the location of CSAM materials on it. But when asked about specific files found on Josh's computer, included one that had 65 images of naked girls under the age of 12, she testified that she had no idea what the file was. It should be noted that Fottrell testified extensively about this partiular file.[42]
Bush admitted that there was no evidence of devices being accessed remotely. When asked again if the HP desktop had been accessed remotely in May 2019, she was very relunctant to say no, saying that while she couldn't prove there was remote access, she couldn't rule it out either.[43][42] She also admitted that she had never been to the car lot, didn't know anything about the hours the business kept, and never bothered to research any of that while doing her investigation of the evidence. When asked if she requested the router from Josh and his lawyers, she responded with "I'm not going out to try to find additional evidence."[42]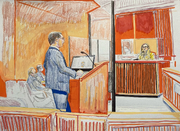 Lastly, the prosectors asked Bush if she was aware of all the thumb drives at the car lot, since they were apparently commonly found in used cars. She said she was not aware of this fact, which was mentioned during the taped interviews she didn't listen to. Finally asking one more question, prosecutors asked again about the picture taken of the computer with a reflection in the screen. She admitted that the picture was "likely" taken by someone sitting at the keyboard.[42]
On redirect, Josh's lawyers noted that Bush's reports were much longer than the government's, giving "an abundance of very detailed information." She reiterated that the videos were streamed, rather than played, so the chances of it being someone else who downloaded the CSAM was "much greater". She also contended that while she did not include the password itself, she did include its hash value, which is a unique identifier.[42]
Bush was then asked about the WiFi network, which she said had Universal Plug and Play enabled, a protocol that allows multiple devices to connect to WiFi and recognize each other. She claimed this protocol left the network "extremely vulnerable" and would allow anyone to come in and take control of it and the devices connected to it. Bush also testified that this was done by a "very sophisticated user", which tells her remote access was "very probable". According to her testimony, all these questions would be answered if she had access to the router, which would allow her to confirm if this was indeed a cyber attack.[43][42]
Gelfand ended his question by asking Bush if she could see a face in the picture of the computer in which there is a reflection in the screen (the picture prosecutors asked her if she had seen). She said she did not.[42]
Court then broke for lunch.
Following lunch, Gelfand continued his questions for Michele Bush, asking her about the photo which was both on his phone and backed up on his Macbook. She said it's possible he received the photo through a text message and it didn't prove he took it himself. She also testified that investigating a device "in the field" carried "severe limitations". [44]
Prosecutors also had more questions for Bush, asking her "you don't really know (if the photo was taken on the iPhone 8) do you?" He asked her several questions she couldn't answer, confirming she never looked at employee records and had "no idea" if the videos were streamed elsewhere or locally. [44]
The distinction between a file never existing at all and being deleted was also pointed out by prosecutors. Bush said that logs showing remote access could have been overwritten by the time she got to examine the devices, whereas prosecutors asserted that such files never existed.[44]
Former HSI Daniel Wilcox
The defense's second, and final witness was former HSI and officer with the Rogers, Arkansas Police Department Daniel Wilcox, who currently works as a senior manager for Walmart on their threat management team.[45] Wilcox was part of the investigative team that went undercover to the car lot to verify that Josh was indeed working there, however he was not part of the team that executed the search warrant.
On cross, the prosecution had him verify that his only role was to make sure Josh was at the car lot and that the location for the first search warrant was based on Josh's IP address. [44]
It was then the defense rested.
Director James Fottrell (again)
After the defense rested, the prosecution recalled Dir. Fottrell as a rebuttal witness.[46] He confirmed he watched Bush's testimony and viewed her exhibits; he also explained the process of downloading and installing the Linux partition and demonstrated how it's just as easy as downloading a Tor browswer and VLC media player. He also showed that it was quite simple to stream URL, something the defense claimed was complicated and required a sophisticated user, before affirming, yet again, that no evidence of remote access existed.[44]
On redirect, Gelfand insisted the applications Fottrell downloaded weren't valid, saying "this software literally didn't exist" in May 2019. Fottrell, meanwhile, questioned why Bush used archive.org to recreate the May 2019 version of the Linux app store. "That's not how I did my research".[44]
Prosecutors finished by having Fottrell affirm a few statements:[44]
The HP user did not need to use the command lines at all to install any of the applications involved
There was no evidence that the computer was accessed remotely on the dates in May 2019
Someone was physically present behind the keyboard of the HP, downloading files on the computer
The prosecution rested once more and the witness and evidence portion of the trial ended. Closing statements would begin the next day.[47]
Day Seven (December 8, 2021)
For closing statements, many of the same family members attended court, including Anna, Derick, Austin, Joy, Justin, Hilary, Jason, Laura DeMaisie, Jim Bob, Rob Spivey, Jr, Claire (Spivey) Duggar, and Jill. It was also reported Jessa attended court.
Closing Statements
Court convened at 9:05 am with Judge Brooks giving the jury their instructions.
Assistant United States Attorney Carly Marshall started the closing statements by referencing defense's opening statement, asking the jury, "is this really a case of whodunnit?" She went through their entire case point by point, arguing that everything - the passwords, the family photo on the computer, the computer itself, all point back to Josh.[48] She continued by summarizing the testimony of their witnesses, and concluded by reminding the jury that only one person was present at the time the CSAM was downloaded and viewed: Josh Duggar.[49]
Josh's attorney, Gelfand, also went through his entire case, once more implying that Josh just wasn't smart enough to have advanced knowledge of computers due to being homeschooled. He focused on his expert's testimony, insisting that Michele Bush and Dir. Fottrell essentially agreed that remote access was possible, noting the Universal Plug and Play router, or "hit and run" as Bush called it. He also pointed out that none of Josh's personal devices (his iPhone or his Macbook) had CSAM on them. He also argued that the Tor browser could be used for completely innocent purposes. [48]
Gelfand continued, insisting the government ignored key pieces of evidence and other suspects because "they were so star struck about the possibility of prosecuting Josh Duggar ... So blinded by that focus that they refused to look for anything else. Everything is on the line, the stakes don't get any higher, we ask that you find him not guilty."[49]
Finally, Assistant United States Attorney Dustin Roberts gave the final closing statement, saying Josh's argument was "throw(ing) the truth against the wall and see(ing) what sticks". He said they wanted to make the jury look "anywhere but the facts. This is not a complicated case".[49] He also fought back on the statement that Tor could be used for innocent purposes, citing that multiple experts in child exploitation told the jury that Tor is mostly used as a means of obtaining CSAM.[48]
Roberts also scoffed at the idea of someone else framing Josh, saying it was "preposterous" to blame this on anyone else when all the evidence points to Josh. Once more he brought up the fact that the password for the Linux partition was the same password Josh had used for the past five years on other accounts.[48] He ended by saying "Mr. Duggar has had his day in court. Now it's time to hold him accountable. It's time to convict Josh Duggar".[49]
Jury Deliberations
The jury of six men and six women left to deliberate at 12:15 pm.[50]
At 2:25 pm they asked to listen to the entire audio recording of Josh's interview with HSI SA Faulkner and HSI SA Aycock from November 8, 2019. (This is the recording that starts just after Josh said "What is this about? Has someone been downloading child porn?" and "I'm not denying guilt. I dont want to say the wrong thing".)[48]

The jury also asked for a calendar going from May 2019 to today. This was denied by both the Judge and the attorneys.[48]
Shortly after 5 pm, court adjourned and the jury went home for day. Jury deliberations were set to continue the following day at 8:30 am. [51]
Day Eight (December 9, 2021)
Several family members were in attendance: Anna, Derick, Austin, Justin, Hilary, Jim Bob, Claire, and David Waller.
Jury Deliberations
At the start of Court, the jury went back into deliberations.[52]
Verdict
On December 9th, 2021, at 10:15 am, the jury read their verdict. Josh was found GUILTY on both accounts. He was immediately handcuffed and taken into custody by US Marshals.[53] He was detained to the Washington County Detention Center, where he will remain until sentencing, when he will then be relocated to Federal Prison.
So, as Gelfand asked, is it a classic , old-fashioned whodunnit? Why does it have to be Josh? The jury were confident in their verdict: Yes, the evidence was strong.
Statements (Regarding Guilty Verdict)
United States Attorney for Western Arkansas Clay Fowlkes
Our office is focused on expending all the resources necessary to the very important work of protecting children in Arkansas and elsewhere.  This verdict sends the message that these cases are a top priority for our office.  This verdict also demonstrates that no person is above the law.  Regardless of wealth, social status, or fame, our office will continue to seek out all individuals who seek to abuse children and victimize them through the downloading, possession, and sharing of child pornography. (Dec 9, 2021)
Jill and Derick Dillard
Today was difficult for our family.  Our hearts go out to the victims of child abuse or any kind of exploitation.  We are thankful for the hard work of law enforcement, including investigators, forensic analysts, prosecutors, and all others involved who save kids and hold accountable those responsible for their abuse.
Nobody is above the law.  It applies equally to everybody, no matter your wealth, status, associations, gender, race, or any other factor.  Today, the people of the Western District of Arkansas made that clear in their verdict.  As a Christian, we believe we are all equal at the foot of the cross, and, likewise, we are all equal under the law.  Jesus warned his disciples, "…[b]eware of the leaven of the Pharisees, which is hypocrisy.  Nothing is covered up that will not be revealed, or hidden that will not be known.  Therefore, whatever you have said in the dark shall be heard in the light, and what you have whispered in private rooms shall be proclaimed on the housetops." (Luke 12:1-3).  
Moreover, "[h]e who justifies the wicked and he who condemns the righteous are both alike an abomination to the Lord." (Proverbs 17:15).  We have been lied to so much that we wanted to hear the evidence for ourselves in court.  After seeing all the evidence as it was presented, we believe that the jury reached a just verdict today, consistent with the truth beyond a reasonable doubt.
Josh's actions have rippled far beyond the epicenter of the offense itself.  Children have scars, but his family is also suffering the fallout of his actions.  Our hearts are sensitive to the pains Josh's wife, Anna, and their seven children have already endured and will continue to process in the future.  This trial has felt more like a funeral than anything else.  Josh's family has a long road ahead.  We stand with them, we are praying for them, and we will seek to support them however we can during this dark time.[54] (Dec 9, 2021)
Jim Bob and Michelle Duggar
This entire ordeal has been very grievous. Today, God's grace, through the love and prayers of so many, has sustained us. Our hearts and prayers are with anyone who has ever been harmed through CSAM.
In the days ahead, we will do all we can to surround our daughter-in-law Anna and their children with love and support. As parents, we will never stop praying for Joshua, and loving him, as we do all of our children. In each of life's circumstances, we place our trust in God. He is our source of strength and refuge. Thank you for your prayers.[55] (Dec 9, 2021)
Jim and Bobye Holt
I just want to say how greatful we are for all the love and support you all have given us over the last couple weeks. It truly means the world!
Please continue to ptay for us as we move forward in this phase of life where we can finally hold out heads up and feel heard and believed!
18+ years we've been trying to get people, authorities, friends, family to listen to what we've known and FINALLY somebody has! So it truly means the world to us and we are so greatful to you all.
Please continue to pray for the Duggar's (sic) as well, especially the children, Anna and her children. They need your support as well.
And to those who've not had a voice, who's not been heard, or believed,
WE SPOKE FOR YOU!
YOU ARE LOVED, YOU ARE STRONG!
Never let anyone silence you! Hold your head held high and know we are cheering for YOU!
We love you all! [56] (Dec 10, 2021)
Jessa and Ben Seewald
From the moment we learned of this case against Josh we have prayed that God would cause the truth to be made known, no matter what it was, and that the facts would be followed wherever they led.
We are grieved beyond words over the children exploited and abused in child sexual abuse material, and we are thankful for our justice system in its punishment of such evils.
Our hearts break for Josh's family, and we ask your continued prayers for them in the unfathomable grief and pain they are enduring. [57] (Dec 10, 2021)
Jinger and Jeremy Vuolo
We are saddened for the victims of horrific child abuse. We are also saddened for Josh's family, his wife and precious children.
We are saddened for the dishonor this has brought upon Christ's name. Josh claims to be a Christian. When a professing follower of Jesus is exposed as a hypocrite, the response of many will be to challenge the integrity of Jesus himself. They'll question the legitimacy of a Savior whose so-called followers privately delight in the sins they publicly denounce. This is why the Apostle Paul told religious hypocrites that "the name of God is blasphemed among the Gentiles because of you" (Romans 2:24). For Josh, we fear for his soul.
Yet, amidst our sadness, there is gratitude. We are grateful that God is a God of justice who cares for the innocent and the helpless. And, of all the people in this world, he especially loves children, who are among the most vulnerable. This reality makes the existence of sex trafficking and child abuse one of the most horrific evils imaginable. It is an evil God hates.
Jesus welcomed and cared for children, seeing their helplessness as opportunity to protect, not exploit (Matthew 19:14). And his harshest indictment was reserved for those who caused them to stumble: "it would be better for him to have a great millstone fastened around his neck and to be drowned in the depth of the sea" (Matthew 18:6).
For those who follow him, he requires the same compassion toward children: "See that you do not despise one of these little ones. For I tell you that in heaven their angels always see the face of my Father who is in heaven" (Matthew 18:10). The Apostle James put this care at the heart of true religion: "Religion that is pure and undefiled before God the Father is this: to visit orphans and widows in their affliction, and to keep oneself unstained from the world" (James 1:27).
We are thankful to God for exposing Josh's actions and to a legal system committed to protecting the innocent and punishing the guilty in this case. We are grateful for justice. We are praying for further justice, vindication, protection, and healing for all those who have been wronged. [58] (Dec 10, 2021)
Jason Duggar
Jason echoed what his sister and brother in law, Jinger and Jeremy, said, posting their statement with the comment "Well said" under it. [59] (Dec 10, 2021)
Jim Bob for Arkansas (official campaign statement)
As a father, I am heartbroken over the entire situation regarding my son, all who have been affected by it in any way, and those who have been harmed through CSAM. As an American, I respect our legal system and am thankful for those who serve in it. As a Christian, I put all of my trust in Christ in both the joyful and difficult moments of life. As your state senator, I promise to remain an unwavering conservative voice representing our great community in Little Rock. Thank you for your prayers and support.[60] (Dec 11, 2021)
Joy-Anna and Austin Forsyth
Over this last year, as you can imagine, there have been a lot of unanswered questions in our minds regarding Josh. We were able to sit through the trial to hear the evidence for ourselves.
We agree with the judicial system's verdict and we are thankful for the men and women who work tirelessly to protect children and help prevent child sexual abuse material. Our hearts break for all CSAM victims.
We are praying for Anna and her children.[61] (Dec 12, 2021)
Appeals
On January 19, 2022, Josh's lawyer filed a Motion for Acquittal or Motion for New Trial[62], citing the prosecutions lack of notice to the defense pertaining to two separate emails they received from Caleb Williams regarding his whereabouts and his access to files at the car lot. On January 31, 2022, the government filed an unopposed motion for an extension, asking the court to allow them more time, until February 11, 2022, to respond to the defense's motion.[63]
On May 24, 2022, Judge Brookes denied the defense's motion for a new trial, saying it was without merit.[64]
Sentencing
On February 15, 2022, the courts officially set a sentencing date of April 5, 2022 at 9:30 am.[65] However on March 24, 2022, the sentencing date was delayed to May 25, 2022, also at 9:30 am.[66] Both The defense and prosecution submitted their recommendations for sentencing on May 11, 2022. The defense asked for the minimum of 5 years while the prosecution asked for the maximum of 20 years.
The courthouse was opened at 8am on May 25, 2022 to a crowd a people who had started lining up as early as 6am.[67] [68] In attendance from the Duggar family were: Anna, Jim Bob, Joy, Jason, James, as well as David and Hannah (Reber) Keller and Bobye Holt. The defense had nearly two dozen objections, most of which were denied. They objected to a level 2 enhancement for knowingly distributing CSAM, which was sustained, meaning the enhancement will not be added. They also objected to a level 4 enhancement for sadistic/masochistic conduct and a level 5 enhancement for a pattern of behavior regarding child sex abuse. Both objections were overruled, meaning the enhancements stand. Another objection was made to another level five enhancement; this was sustained with conditions and lowered to a level 4 enhancement, which will stand. [69]
Court went into recess at 11:45pm for a short lunch break and resumed at 12:10pm.
At approximately 3:35pm Judge Timothy Brooks sentenced Josh to 151 months in federal prison (about 12.5 years).[70] He was also fined $50,100. Following release from prison, Josh will not be allowed any unsupervised contact with minors for 20 years, including with his own children.[71]
A Note about Terminology
According to the Child Rescue Coalition, the most shared child abuse file has been seen by more than 2.6 million IP addresses.
There is a movement by several different advocacy groups and agencies to stop using the term "child pornography".
The COO of Child Rescue Coalition, Glen Pounder, said "when children are involved, it's not child pornography. It's sexual abuse, and it's a crime."
Kevin Metcalf, the founder of National Child Protection Task Force, said "Terms such as child pornography, child porn, kiddie porn, make it easier to live with. This is torture of people, of child."
We here at Fundie Wiki support this cause and will refrain from using the term "child pornography" except where absolutely necessary, such as with court documents, since that is still the legal term. If appropriate, we will also alter quotes, as you can see in HSI SA Faulkner's quote in his bail hearing testimony.
Support Resources
We have compiled a comprehensive list of support groups, advocate groups, organizations, and hotlines from all over the world. This list can be found here. If you, or someone you know, is or has been a victim of sexual abuse, or you have been affected by the ongoing case, please reach out to any of these organizations.
A Special Note of Thanks
This particular page, as well as the Federal Arrest page, has taken an enormous amount of work. Cameras and any sort of recording devices were not allowed in the court room at all. We relied and continue to rely on the hard work and dedication of the local reporters, who have been there every day, listening to every detail. Without their stellar reporting, this page would not be possible. These amazing people are a shining example of why it is so important to support local news. The local reporters are: Anna Darling, C. C. McCandless, Garrett Fergeson, Kendall Ashman, Samantha Boyd. We would also like to thank John Kushmaul for his fantastic sketches throughout this entire case.
To them we say: Thank you so much for everthing you do.
References