Joshua James Duggar is the first of Jim Bob and Michelle Duggar's nineteen children. He is married to Anna Duggar. Together they have seven children, Mackynzie, Michael, Marcus, Meredith, Mason, Maryella, and Madyson Duggar. Josh is currently at the Washington County Detention Center following a guilty verdict on the charges of receiving and possessing CSAM. On May 25, 2022, he was sentenced to 151 months (roughly 12.5 years) and will shortly be remanded to a federal prison.
Early Life

Joshua James Duggar was born on March 3, 1988, to parents Jim Bob Duggar and Michelle Ruark, who would go on to give birth to eighteen more children after Josh. Along with his siblings, Josh was homeschooled growing up. As Josh got older, he and his siblings were expected to help their younger siblings with schooling in addition to their own courses.[1] Josh took the test for his GED at the age of 16.[2]
As a young child, Josh learned to play the piano from a woman named Ruth Anita Anderson, who he and his siblings called "Nana".[3] Josh also began taking violin lessons at some point in his childhood.[4]
Josh's father, Jim Bob, served on the Arkansas House of Representatives from 1999 to 2002. Josh often accompanied his father to the State Capitol, where others who worked in the building referred to Josh as "governor". Even as a young boy, Josh was very aware of his father's political career. In 2002, when his father was running for the Republican nomination to Senate, Josh commented on the race, saying, "We're not in it to kick [anyone]. We're in the race because we feel God has told us to run. We're not against any of our opponents in any way."[5]
Like many children, Josh was given chores, or "jurisdictions" as the family called them. During an interview in 2002, he was referred to as the "family grillmaster", and was said to often lead the family in prayer before dinner.[6] In 2003, it was said that Josh and his oldest two siblings, Jana and John-David, were in charge of planning and preparing dinner every night. "They like to do that because they get to choose the menus!" Josh's mother, Michelle, said about this jursidiction.[7]
By 2001, Josh's parents had implemented a buddy system, where each older child was paired with a younger child to take care of. Typical tasks for an older buddy included dressing, bathing, and feeding their younger buddies.[8] Although Josh had a younger buddy in the earliest implementations of this system, by 2009 the family had switched over to buddy teams, which were each led by one of the oldest daughters.[9] It is unknown if this switch happend before or after Josh moved out of his parents' home.
When the family went on vacations, the children walked in single file from youngest to oldest. Josh's parents were in the front of the line, and being the oldest, Josh was expected to make sure everyone stayed in line. When asked why he talked to so many strangers out in public, Josh commented, "I've had several people ask me when we go out, 'Now what school is this?' or 'What organization are you in?' Somebody's always asking us something."[10]
Josh was raised as an active participant in Bill Gothard's Institute for Basic Life Principles. It is speculated that when Josh was a teenager, he attended IBLP's ALERT camp.
Family
Courtship and Engagement
Josh met Anna Keller at a homeschooling convention in 2006.[11] Shortly after meeting, the two entered a courtship. Their courtship rules were discussed on the 17 Kids and Counting episode "Duggar Dating Rules", and included no physical contact until engagement and no time alone as a couple until marriage. Anna had stated that she did not want to be engaged before her twentieth birthday, therefore Josh waited until then to purpose. He flew down to Florida to surprise her, showing up to Gator Landing in East Palatka where she was having dinner with her parents, Mike and Suzette Keller. Originally, dinner was to be outside, but due to last minute weather changes, the dinner and proposal were moved indoors. During the course of the meal, Josh showed up with Balloons for Anna and subsequently asked her to marry him. Anna accepted. The proposal was featured on the 17 Kids and Counting episode "Josh Gets Engaged". It was also posted on YouTube in its entirety.
Marriage
On September 26, 2008, Anna and Josh were married at Buford Grove Baptist Church in Hillard, Florida.[12] They shared their first kiss during the wedding, and vowed to leave the number of children they would have "up to God". The couple moved back to Josh's hometown of Springdale, Arkansas, where Josh ran a used car lot.
Fatherhood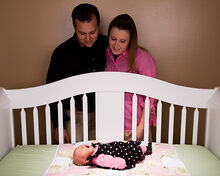 On April 13, 2009, Josh and Anna Duggar announced that they were expecting their first child.[13] On June 15, 2009, they appeared on the Today Show, where they learned that the child would be a girl.[14] On July 31, 2009, they announced that she would be named Mackynzie Renee.[15] On October 9, 2009, Mackynzie Renee Duggar was born in the couple's home.[16] She weighed 8 pounds and was 19 1/2 inches long.[17]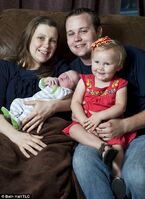 On November 11, 2010, Josh and Anna announced that they were expecting their second child, who was due June 19, 2011.[18] On March 14, 2011, Josh and Anna announced that they were expecting a boy.[19] On June 15, 2011, Michael James Duggar was born in his parents' home. He weighed 8 pounds and 5 ounces.[20]
On March 11, 2013, Josh and Anna announced that they were expecting their third
child.[21] On April 1, 2013, they announced that they were expecting a boy.[22] On June 2, 2013, Marcus Anthony Duggar was born at the home of a nearby midwife. He weighed 9 pounds and 3 ounces.[23]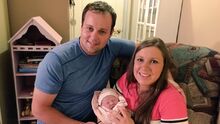 On December 3, 2014, Josh and Anna announced that they were expecting their fourth child.[24] On March 3, 2015, they announced that the child would be a girl.[25] On July 16, 2015, Meredith Grace Duggar was born on July 16, 2015, in another Arkansas home the couple had recently moved into. She weighed 7 pounds and 14 ounces.[26]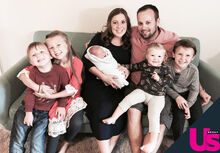 On March 17, 2017, Josh and Anna announced that they were expecting their fifth child, a son.[27] On September 12, 2017, Mason Garrett Duggar was born.[28]
On April 26, 2019, Josh and Anna announced that they were expecting their sixth child, who was due late fall of 2019.[29] On June 20, 2019, they announced that the child would be a girl.[30] On November 27, 2019, Maryella Hope Duggar was born.[31]
On April 23, 2021, Anna announced via her instagram that they were expecting their seventh child, a girl, due in the fall.[32] On October 29, 2021, Josh's father announced he was running for the Arkansas State Senate District 7 seat. In his official campaign announcement, he mentioned "having been blessed with 22 grandchildren so far", thus revealing that the baby had been born sometime in October.[33]
On November 16, 2021, Anna announced Madyson Lily Duggar was born on October 23, 2021. She weighed 7lbs 9oz and was 20in long.[34]
Career
Car Salesman
After getting married, Josh and his wife Anna ran a used car lot, Duggar Automotive, in Springdale, AR. At one time, the car lot had two locations. In June of 2013, this car lot was sold to Dobbs Motor Company.[35]
On May 18, 2016, it was reported that Josh had been seen selling used cars for a business owned by his family.[36]
On November 2, 2018, it was reported that Josh had plans for a new used car lot in Fayetteville, AR.[37]
Family Research Council
On June 14, 2013, Tony Perkins, president of the Family Research Counter, announced that he had hired Josh Duggar as an executive director of the lobbying arm FRC Action.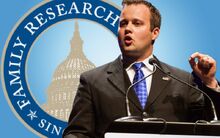 While working for the FRC, Josh was often the public face of the company, appearing at a number of events, often with his wife Anna. On May 21, 2015, in the wake of Josh's molestation scandal, Josh resigned from this position with the following statement:
I deeply regret that recent media reports about my long ago past has brought negative attention to FRC Action and its work to preserve and advance the interests of family, faith, and freedom in the political arena.
FRC Action's mission to fortify the traditional foundations of civil society is more important now than ever before, and I'm heartbroken that any attention has been diverted from these noble causes to my wrong actions as a young teenager. I am so thankful for God's grace, forgiveness and redemptive heart that allowed me to transform into a man of faith and testimony.
In good faith I cannot allow Family Research Council to be impacted by mistakes I made as a teenager, so I am resigning as Executive Director of FRC Action. I will continue to pray for the advancements of the causes we believe in and I hope that in the days ahead you will pray for me and Anna as we seek God to discover the next chapter of our lives in His service.
Sincerely, 
Joshua Duggar[38]
Television Career
Josh was featured in five special programs on Discovery Health and TLC as a teenager between 2004 and 2007: 14 Children and Pregnant Again, Raising 16 Children, 16 Children and Moving In, On the Road with 16 Children, and Duggars' Big Family Album. These specials featured the lives of Josh's family as they prepared for the births of Jackson, Johannah, and Jennifer, built their new house, and went on a road trip across the western United States.
On September 29, 2008, TLC premiered the show 17 Kids and Counting, which chronicled the everyday lives of the Duggar family. Josh's engagement, marriage, the births of his first three children, and his move to DC were all prominent subjects of the show.
Prison Career
On December 9, 2021, Josh was taken to the Washington County Dentention Center, where he currently resides. It is unknown what job he has within the prison.
Scandals
For a comprehensive outline of all the scandals, please see Josh Duggar Scandal Chronology.
Molestation Scandal
See main article: Josh Duggar molestation scandal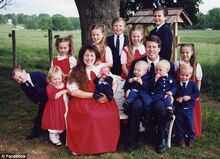 In 2015, the magazine In Touch Weekly published a redacted police report[39] revealing that Josh had been reported to the Arkansas State Police for the molestation of five underaged girls between 2002 and 2003, when he was 14 and 15 years old. The report indicated that four of the five victims were his siblings. Jim Bob Duggar reported that he had learned of previous incidents in 2002 and opted to discipline him at home. In March 2003, further incidents were reported, and Jim Bob discussed the issue with the elders of their church, and, at their suggestion, enrolled Josh in a three month program of physical labor and counseling. In 2006, the Duggar family was scheduled to appear on The Oprah Winfrey Show. After an anonymous source reported Josh's previous misconduct to Harpo Studios, the family's appearance was cancelled and the Department of Human Services was notified. Jim Bob, Michelle, and their children were all interviewed about the incidents, and reported that no further molestations had occurred. By this time, the Arkansas state statute of limitations had already passed, and no further charges could be filed against Josh.
Ashley Madison Scandal
See main article: Josh Duggar Ashley Madison scandal
In summer of 2015, when the website Ashley Madison was breached, it was revealed that Josh had two accounts on the site, one of which he paid for a guaranteed affair. On August 20, 2015, Josh and his parents Jim Bob and Michelle released a statement on the family's website where Josh admitted to watching pornography and being unfaithful to his wife. On August 25, 2015, he checked himself into a "long-term treatment center", later confirmed to be Reformers Unanimous, to receive treatment for his sex addiction. In March of 2016, the Duggar family confirmed that Josh had left rehab and returned to his family in Arkansas.
Car Lot Scandals
see main articles: Josh Duggar Car Lot Scandal (part one) and (part two)
After returning home in March 2016, Josh opened another used car lot in order to earn a living to provide for his growing family. Unfortunately it was rife for controversy, being involved in at least three scandals before finally shutting down in 2020.
Real Estate Scandal
See main article: Josh Duggar Real Estate Scandal
In April 2016, Josh's real estate company, ALB Investments, as well as Edward Lewis were sued by Lewis' cousin, Carl Echols, for fraud and breach of contract. Echols claimed his cousin illegally and fraudulently sold his property to Josh, and faulting Josh for not doing his due diligence on the property. Echols won his lawsuit after Josh failed to appear in court on multiple occasions.
Money Moving Scandal
See main article: Josh Duggar Money Moving Scandal
Starting in March 2019, Josh started moving money around, sparking many rumors that he was trying to avoid paying any sort of fines or judgements should he lose his real estate lawsuit or being sued again in the future. Several LLCs, and thus all the real estate he and and Anna own, have been registered in Anna's name. All but one are currently in good standing.
Federal Arrest Scandal
On Thursday, April 29, 2021, it was revealed that Josh had been arrested by the US Marshals. On Wednesday, May 5, 2021, he was granted bail and released the next day. Due to the potentially triggering nature of this case, no further details will be published on this page. Please see the main article for further information: Josh Duggar Federal Arrest Scandal. TW: CSA
Federal Trial
On Tuesday, November 30, 2021, Josh's trial in federal court began, following his arrest (mentioned above). Due to the nature of the case, no further information will be posted here. Please see the main article for futher information: Josh Duggar Federal Trial TW:CSA
On Thursday, December 9, 2021, Josh was found guilty of both charges and immediately handcuffed and taken into custody by US Marshals.[40]
On Wednesday, May 25. 2022, Josh was sentenced to 151 months, roughly 12.5 years, in federal prison.
Wedding Involvement
Josh has been involved in the following weddings:
References