Jordyn-Grace Makiya Duggar is the eighteenth of Jim Bob and Michelle Duggar's nineteen children.
Early Life
Pregnancy and Birth
On May 9, 2008, Michelle and Jim Bob Duggar announced that they were expecting their eighteenth child, with a New Year's Day due date.[1] This announcement, which took place on NBC's Today show, was the subject of the two-part pilot episode of the family's new weekly reality show 17 Kids and Counting, making Jordyn the first family member to have her life documented via a regular TV show from the very beginning.[2][3]
On December 19, 2008, Jim Bob and Michelle announced that they had given birth to a daughter, Jordyn-Grace Makiya Duggar, on December 18, 2008. She was born via C-section at Mercy Medical Center in Rogers, AR, after Michelle began having contractions and the doctors found the baby was transverse. She weighed 7 lbs and 3 oz and was 20 inches long.[4] Jordyn was the couple's eighteenth child, and they went on to have one more child after her.
Childhood Years
When Jordyn's sister Josie was born, Jordyn was put in a (now dissolved) buddy team with older siblings Jessa, Jeremiah, and Justin. Buddy teams help each other out around the house, with older buddies helping dress, bathe, and feed their younger buddies.[5] Jordyn appeared particularly distressed when her older buddy Jessa got married.[6]
Childhood Education
Jordyn has been homeschooled her entire life.[7] She and her siblings are being raised as active participants in the Institute for Basic Life Principles, a seminar program for conservative Christians. As such, much of her homeschooling is grounded in IBLP's Advanced Training Institute homeschool program.[8] As documented on her family's reality show, many of her older siblings have participated in helping with her schooling. In recent years, her brother-in-law Ben Seewald has also conducted some of her schooling.[9]
Jordyn currently takes piano and violin lessons, and occasionally performs in recitals.[10][11]
Resume
Television Appearances
Before she was even born, Jordyn was the subject of a number of episodes in season 1 of the TLC show 17 Kids and Counting. These episodes heavily featured her pregnancy, with the show's premiere focusing on a family trip to New York City to announce that she was on the way.[2][3] On December 22, 2008, the special episode "And Baby Makes 18" focused on Jordyn's birth, and the show was retitled to 18 Kids and Counting to include her in the line-up.[12] She was regularly featured on the show (which was later renamed 19 Kids and Counting) until its cancellation in 2015.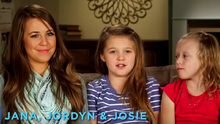 In December of 2015, TLC released a three-part special called Jill & Jessa: Counting On, which focused on the Duggar family as they moved on from scandals involving her oldest brother. These specials were picked up as a regular series, which was renamed Counting On. Although she is not the primary focus of the show, she is frequently featured as a member of the family.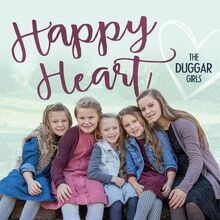 Singing Experience
At some point during 2018, Jordyn recorded an album along with her three younger sisters and her niece Mackynzie Duggar. That album, "Happy Heart", was released on August 1, 2018. On August 6, 2018, the Counting On episode "Unexpected" featured a behind-the-scenes look at the album's recording process.[13]
Wedding Involvement
References