Jim Bob Duggar is the second child of Jimmy Lee and Mary Duggar. He is married to Michelle Duggar, and they have nineteen children, Josh, Jana, John, Jill, Jessa, Jinger, Joe, Josiah, Joy, Jedidiah, Jeremiah, Jason, James, Justin, Jackson, Johannah, Jennifer, Jordyn, and Josie, as well as legal guardianship of his great-nephew Tyler Hutchins. He has twenty three grandchildren.
Early Life
James Robert "Jim Bob" Duggar was born on July 18, 1965, in Springdale, Arkansas, to Jimmy Lee "JL" Duggar and Mary Lester. He was the couple's second child. The Duggars did not have a lot of money, and in one of the books Jim Bob wrote as an adult he mentioned a time where his mother had to cook decorative rice because it was the only food in the house. Jim Bob often blames this on his father being unable to handle money.[1] In the book Growing Up Duggar, which Jim Bob's daughters wrote, they mention that JL was not a good "spiritual leader of the home", a statement they don't expand on.[2] Not much else is known about Jim Bob's childhood.
When Jim Bob was about seventeen years old, he was going door to door visiting families who had visited their church when a friend, Fred Pearrow, suggested that they visit a cheerleader friend of his who had recently been saved. The friend was named Michelle Ruark. The boys invited her to Sunday school and talked to her about recent conversion. When Jim Bob left her house, he prayed at the doorway "Lord, I would love to be her spiritual leader. Can she be mine?"
A year later, when Jim Bob was a senior in high school, Michelle applied to work at a yogurt shop where Jim Bob's mother was a manager. He told his mother to hire her. He came in to fix the cash register one day and invited Michelle to the junior/senior banquet at his high school, and she agreed. After the banquet, Jim Bob and Michelle went back to Michelle's house and discussed the Bible for four hours and began dating.
Jim Bob graduated from Shiloh Christian High school in May of 1984.[3]
Family
Marriage
Jim Bob Duggar married Michelle Annette Ruark at Cross Church in Rogers, Arkansas, on July 21, 1984. Since the church was under construction, the couple was married in a hallway leading to a gymnasium. Michelle wore the wedding dress that was originally worn by Jim Bob's mother, Mary. There were about two-hundred guests at the wedding. The wedding colors were pastel shades of yellow, pink, green, and blue. The wedding only had fake flowers, which the couple then used to decorate their home. There is no video recording of the wedding, but there is an audio recording on a casette tape. "Everything we did for our wedding was so inexpensive, but perfect for us," Michelle said in an interview in 2014. "We wanted to spend our money on our honeymoon, which was our first time to be alone together."[4]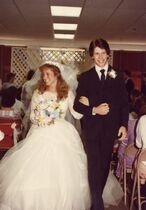 The couple went to a cabin in Mount Nebo and Lake Fort Smith, Arkansas, for their honeymoon. They were unhappy with the cabin, however, and cut their trip short so they could begin working on fixing up their new home.[5]
In their early years of marriage, both Jim Bob and Michelle worked in real estate, which they were reported to be successful at. They also invested in a number of commercial properties.
Fatherhood
On March 3, 1988, Jim Bob and Michelle welcomed their first child, Joshua James "Josh" Duggar to the world.[6] After giving birth to Josh, Michelle went back on birth control. When Michelle suffered a miscarriage, the couple consulted with a Christian doctor who told them that the pill can cause miscarriages. The couple was heartbroken, and decided to no longer use birth control.[7] Although they did not know the sex of the baby, they chose to name the miscarriage "Caleb".[8]
On January 12, 1990, Michelle gave birth to a set of twins, Jana Marie and John-David Duggar.[9][10] Feeling God was blessing them for making the right decision, the couple determined to leave the number of children they had up to God.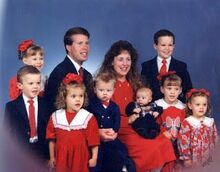 Jim Bob went on to have sixteen more children: Jill Michelle (5/17/91), Jessa Lauren (11/4/92), Jinger Nicole (12/21/93), Joseph Garrett (1/20/95), Josiah Matthew (8/28/96), Joy Anna (10/28/97), twins Jedidiah Robert and Jeremiah Robert (12/30/98), Jason Michael (4/21/00), Justin Samuel (11/15/02), Jackson Levi (5/23/04), Johannah Faith (10/11/05), Jennifer Danielle (8/2/07), Jordyn-Grace Makiya (12/18/08), and Josie Brooklyn (12/10/09). [9][10]
Premature Birth of Josie Duggar
Although each birth garnered more attention for the family due to the their large size, the most well-known of Jim Bob's newborns is Josie Duggar. On December 7, 2009, Michelle was rushed to the hospital for gallbladder issues. After the pain generated contractions, Michelle was airlifted to a hospital in Little Rock, AR, to be closer to a NICU center, which the family and doctors did not think would ultimately be necessary.[11] On December 8, 2009, the Duggars posted a video updating fans on Michelle's status. "We'd like to thank everyone for praying for Michelle," Jim Bob said before assuring audiences that Michelle and the baby were both fine and resting comfortably at the University of Arkansas for Health Sciences in Little Rock.[12]
On December 11, 2009, TLC reported that Michelle had given birth to her nineteenth child via an emergency C-section. Josie Brooklyn Duggar, born at only 25 weeks, weighed 1 pound and 6 ounces, and was reportedly stable and in the care of the neonatal intensive care unit at the University of Arkansas for Medical Services.[13]
On December 14, 2009, the family released more information, saying that Michelle suffered from preeclampsia, a rare and potentially life-threatening condition that occurs in about 5 to 8 percent of pregnancies.[14]
On December 16, 2009, the family reported that Josie was doing better. Jim Bob sent an email to ABCNews saying "We are so grateful for all of the prayers and emails of support for our family ... Josie is beautiful and in stable condition."[15]
On February 16, 2010, an episode of the family's TV show revealed that the family had packed up in December and temporarily moved into the Cornish House in Little Rock to be closer to Josie.
On April 6, 2010, Josie was released from the hospital. She weighed 4 pounds and 9 ounces, was able to breathe without oxygen, and was eating every three hours.[16]
At 3 am on April 12, 2010, Josie's vital signs began to drop unexpectedly, and Josie was taken back to the hospital. The vital sign fluctuation was determined to be caused by constipation that happened as a result to the fortifiers added to the breast milk. She weighed 4 pounds and 12 1/2 ounces.[17]
On June 3, 2010, Josie was released from the hospital. It was discovered that her digestive issues were being caused by lactose intolerance. She had grown to 7 pounds, 7 ounces.[18] However, Josie was unable to return home to her family at that time, because many of her siblings caught the chicken pox. Instead, she and her mother lived in a rental house near the hospital while the rest of her family returned to their home in Springdale. AR. On June 28, 2010, Josie finally made the trip back to her family's home.[19]
Death of Jubilee Duggar
On November 8, 2011, Jim Bob and Michelle Duggar announced that they were expecting their twentieth child. The couple said they had expected Josie to be their last, but were excited for another child. "Michelle and I both feel like some of the most blessed parents in the world. Our children are so sweet. We are so grateful to God," Jim Bob said of the pregnancy.[20]
On December 8, 2011, the couple announced that they had miscarried their child. After a routine check-up, the doctor was unable to find a heartbeat. The family was heartbroken, and said they would give the infant a name and a funeral once knowing the gender.[21]
On December 11, 2011, Michelle naturally delivered the still born child. She weighed 4 ounces and was 6 centimeters long.[22]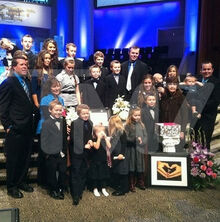 On December 12, 2011, the couple set a date for the funeral and announced that they had decided on the name Jubilee Shalom Duggar. Jim Bob commented on the loss in this statement:
"We have had many tears today. This is life, and I understand that we are going though something that many others have. You think about the what-ifs, but God gives us strength to go on. We won't be able to see this child's life and the phases that we've seen for our other children, but we know we will see this child in heaven one day. We are thankful for each child, and we are blessed to have the children we have here and the ones we will meet someday in heaven. We would like to thank everyone for their prayers, emails and outpouring of love," Jim Bob wrote in a letter he shared with PEOPLE. "As our whole family is grieving, we also know that God promises to work all things for good in our lives. Our prayer is that Jubilee's passing will help us all realize that this life is short, and our relationship with Jesus is the most important thing. He gives us a peace in our hearts as He guides us through whatever we might face."[23]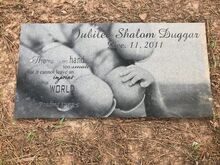 On December 14, 2011, the Duggar family held a funeral for Jubilee, which was held in Springdale, AR, and was attended by hundreds of people. "I really believe that God sees the bigger picture. I hope that her short life can encourage other people who have gone through things like this. It was very healing, and we have precious memories," Jim Bob said about the event.[24] The funeral, which aired on the family's television show, was the subject of some controversy after it was discovered the Duggars displayed photos of the stillborn child at the event.
Guardianship of Tyler Hutchins
On August 31, 2016, Jim Bob and Michelle became temporary guardians of Tyler Wayne Hutchins, Michelle's great-nephew. Prior to that, Tyler was in the custody of his grandmother due to legal issues with his mother. The custody was changed when his grandmother had a stroke.[25] On November 14, 2016, they became Tyler's permanent guardians.[26] As of 2019, this custody arrangement still stands.
Josh's Family
On September 26, 2008, Jim Bob Duggar's oldest son, Josh, married Anna Keller in Hillard, Florida.[27] The couple has seven children, Mackynzie Renee (10/8/09)[28], Michael James (6/15/11)[29], Marcus Anthony (6/2/13)[30], Meredith Grace (7/16/15)[31], and Mason Garrett (9/12/17)[32], Maryella Hope (11/27/19)[33], and Madyson Lily (10/23/21)[34]. Notably, Jim Bob's youngest daughter, Josie, is two months younger than his eldest grandchild, Mackynzie
John's Family
On November 3, 2018, Jim Bob's son John married Abbie Burnett in Ada, Oklahoma.[35] The couple has one child, Grace Annette (1/7/20)[36].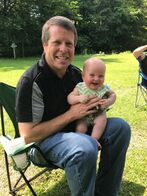 Jill's family
On June 21, 2014, Jim Bob's daughter Jill married Derick Dillard in Rogers, Arkansas.[37] The couple has two children, Israel David (4/6/15)[38] and Samuel Scott (7/8/17)[39].
Jessa's Family
On November 1, 2014, Jim Bob's daughter Jessa married Ben Seewald in Bentonville, Arkansas.[40] The couple has four children, Spurgeon Elliot (11/5/15)[41], Henry Wilberforce (2/6/17)[42], Ivy Jane (5/26/19)[43] and Fern Elliana (7/18/21)[44].
Jinger's Family
On November 5, 2016, Jim Bob's daughter Jinger married Jeremy Vuolo in Siloam Springs, AR.[45] The couple has two children, Felicity Nicole (7/19/18)[46], and Evangeline Jo (11/22/20)[47]
Joseph's Family
On September 8, 2017, Jim Bob's son Joe married Kendra Caldwell in Siloam Springs, AR.[48] The couple has three children, Garrett David (6/8/18)[49], Addison Renee (11/2/19)[50][50], and Brooklyn Praise (2/19/20)[51].
Josiah's Family
On June 30, 2018, Jim Bob's son Josiah married Lauren Swanson in Siloam Springs, AR. Early in 2019, the couple announced a miscarriage, who they named Asa.[52] They have one child, Bella Milagro (11/8/19)[53].
Joy's Family
On May 26, 2017, Jim Bob's daughter Joy married Austin Forsyth in Rogers, Arkansas.[54] The couple has two children, Gideon Martyn (2/23/18)[55], and Evelyn Mae (8/21/20).[56] They also had a stillborn daughter, Annabell Elise.[57]
Jedidiah's Family
On April 3, 2021, Jim Bob's son Jedidiah married Katelyn Nakatsu in Arkansas. They have one child, Truett Oliver (5/2/22)[58]
Religion
Quiverfull Movement
In 1995, the "quiverfull" movement formed. It was a conservative Protestant group that is notably against birth control, looking to produce as many children as possible for God. The group's name comes from Psalm 127:
"Behold, children are a heritage from the Lord,


The fruit of the womb is a reward.
Like arrows in the hand of a warrior,
So are the children of one's youth.


Happy is the man who has his quiver full of them."
Although it is unknown exactly when the family joined this movement, when they created their first family website in 2005, a link to quiverfull.com was included under the heading "links to articles about the family.[59] The link was to an article posted in 2001, which discussed the family's involvement in the movement.[60]
Resume
Political Career
In 1999, Jim Bob Duggar became a member of the Arkansas House of Representatives, representing the sixth district. [61] He was the vice chair of the Judiciary House Corrections & Criminal Law Subcommittee[62]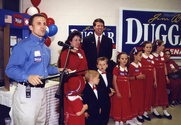 In 2002, Jim Bob ran against incumbent Republican Tim Hutchinson for the Republican nomination for the US Senate.[63] Jim Bob ultimately lost this race.[64]
In 2006, Jim Bob ran for the Republican nomination to the District 35 Senate seat.[65] Jim Bob lost this race as well.[66]
On October 29, 2021, Jim Bob announced via his family Facebook page that he would be running for the Arkansas State Senate District 7 seat.[67] Notably, the announcement was released just over 4 weeks before his eldest son, Joshua Duggar, was scheduled to stand trial in federal court for charges relating to child sex abuse imagery/material.
Television Appearances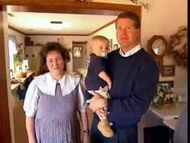 Early Discovery Specials
On September 6, 2004, shortly after Michelle won a "Young Mother of the Year Award" from American Mothers Incorporated[68], Discovery Health aired the one-hour special "14 Children and Pregnant Again!" This special showed how the Duggar family made their lives work in their 2,450 square foot house. Many of the family's day-to-day activities were shown, including chores, homeschooling, a trip to the grocery store, church, and construction on a house the family was trying to build. The special also included the birth of Jackson Duggar.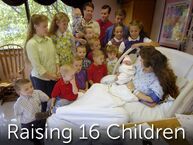 On March 13, 2006, a second one-hour special was released, "Raising 16 Children". This special focused more heavily on the construction of the 7,000 square foot home the family had been working on. In the special, the family attends a homeschooling conference thrown by Bill Gothard's Advanced Training Institute, although many of the details of this program are left out. At the end of the episode, the family welcomes their 16th child, Johannah Duggar.
Two days later, on March 15, 2006, a third special, "16 Children and Moving In" was aired. This special focused on the family putting finishing touches on their new home and moving in before their old house was demolished.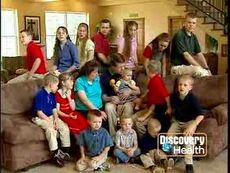 On June 11, 2006, a fourth special, "On the Road with 16 Children", featured the family going on a road trip across the Western United States. The family visits many locations, including a dude ranch, the Grand Canyon, the Pacific Ocean, and Disneyland.
The final special, "Duggars' Big Family Album", aired on September 22, 2007. This special recapped the previous specials, updated viewers on the family, and showcased the birth of the couple's seventeenth child, Jennifer Danielle Duggar.
17 Kids and Counting
See main article: 19 Kids and Counting
In 2008, the Duggar family began filming a regular series for TLC. The series, initially titled 17 Kids and Counting and updated with the births of the Duggars' final two children, followed Jim Bob's family through a variety of life events. The series ran from September 29, 2008, through May 19, 2015. There were a total of ten seasons, containing 229 regular episodes and 16 special episodes. Major events included in the series included the births of Jim Bob's youngest two daughters, Jordyn-Grace and Josie, as well as his oldest four grandchildren, Mackynzie, Michael, and Marcus Duggar, and Israel Dillard, the weddings of three of Jim Bob's children, Josh, Jill, and Jessa, and the deaths of Jim Bob's father and stillborn daughter Jubilee. The series was cancelled in the wake of a scandal involving Jim Bob's oldest son, Josh. A spin-off series, Counting On, which only rarely features Jim Bob, premiered on December 14, 2015.
Author Career
On December 2, 2008, Jim Bob and his wife Michelle released a book called The Duggars: 20 and Counting!. The book discussed topics like marriage, parenting, homeschooling, and living debt-free.
On June 7, 2011, Jim Bob and his wife Michelle released a book called A Love That Multiplies: An Up-Close View of How They Make it Work. This book discussed their struggles with Josie's birth and their oldest children preparing for adulthood.
Molestation Scandal
See main article: Josh Duggar Molestation Scandal
On May 21, 2015, In Touch Weekly published an article titled "Bombshell Duggar Police Report: Jim Bob Duggar Didn't Report Son Josh's Alleged Sex Offenses For More Than a Year". The article contained a copy of a redacted police report dated December 7, 2006, which detailed events of 3 1/2 years ago, when Jim Bob and his wife Michelle discovered that one of their sons (Josh Duggar, who was 14 at the time of the offenses and 18 at the time of the police report) had been fondling the breasts and vaginas of four underaged girls in the Duggars' home and the breasts of one underaged girl outside of the home. According to the report, Jim Bob did not report these events to law enforcement beyond a family friend:
The father said that he went to a state trooper and reported this, but no report was ever filed. The caller says that the father knew this trooper before hand, but they do not know how well. The callers says that the parents put [redacted, Josh] in some type of rehab place for 3 months in Little Rock, but it was not a rehab for sex offenders, and then [redacted, Josh] came right home. The caller is concerned that this was never reported and [redacted, Josh] never received treatments.[69]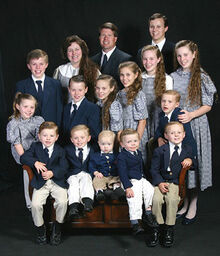 On December 12, 2006, Jim Bob and Michelle were interviewed about the events. In Jim Bob's version of events, Josh came to him in March of 2002 and confessed to molesting his sisters in their sleep 4 to 5 times. Only one of the sisters had any recollection of this occurring. Jim Bob handled discipline himself after the first time. In March of 2003, there was another incident, and Jim Bob met with the church elders, who suggested he send Josh to a treatment program. Although one of the elders suggested the Piney Ridge program at Vista Hosptial, Jim Bob was concerned that Josh would be exposed to other offenders at this camp and instead opted to send him to an undisclosed Christian ministry in Little Rock. (In 2015, reporters were quickly able to identify this program as an IBLP training center run by Harold Walker.[70])
Upon returning from the center on July 17, 2003, Jim Bob took Josh to speak to state trooper Cpl. Joseph Hutchens, who gave Josh a "stern talking to".[71]
According to Jim Bob, no further offenses had taken place, and he felt comfortable allowing Josh back into his home and around his other children.
By December 13, 2006, Jim Bob had hired Private Attorney Joel Huggins. Jim Bob refused any further interviews after this. Huggins dropped the case on December 20, 2006.
On May 21, 2015, Jim Bob and Michelle released the following statement on their official Facebook page:
Back 12 years ago our family went through one of the most difficult times of our lives. When Josh was a young teenager, he made some very bad mistakes and we were shocked. We had tried to teach him right from wrong. That dark and difficult time caused us to seek God like never before. Even though we would never choose to go through something so terrible, each one of our family members drew closer to God. We pray that as people watch our lives they see that we are not a perfect family. We have challenges and struggles everyday. It is one of the reasons we treasure our faith so much because God's kindness and goodness and forgiveness are extended to us — even though we are so undeserving. We hope somehow the story of our journey — the good times and the difficult times — cause you to see the kindness of God and learn that He can bring you through anything.[72]
On the same day, the official records were expunged at the request of one of the victims, presumably Jim Bob's daughter Joy-Anna Duggar, as she was the only known victim still under the age of eighteen at this time. [73][74]
On May 22, 2015, TLC pulled all episodes of 19 Kids and Counting from the air[75] before officially cancelling the show onJuly 16, 2015.[76]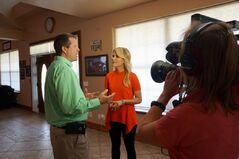 On May 21, 2015, Jim Bob, his wife Michelle, and his daughters Jill and Jessa were interviewed by Fox News host Megyn Kelly.[77] In the interview, which aired on The Kelly Files on June 3, 2015, Jim Bob said that he and his wife "did the best we could under the circumstances". He also faulted the Springdale police department for releasing the records.[78] On the same day, InTouch published a second police report, this one from the Washington County Sherff's Office.[79]
Due to public outrage at how Jim Bob and Michelle chose to handle the initial molestations, Jim Bob was left out of the early episodes of the spin-off show Counting On. His appearances on the show were mostly in the background, only being featured during family events it would be impossible to leave out. As the show has moved into later seasons, he has been featured more prominently.
DHS Investigation
On June 10, 2015, the Arkansas Department of Human Services arrived on the Duggar family's property in response to a tip. They called 911 after being denied access to the children. It is unknown what prompted this visit or if anything became of it.[80]
References