Jurassic World: Dominion Dominates Fandom Wikis - The Loop
Play Sound
James Lee (JL) Duggar was the son of James and Velma (Boggs) Duggar. He was the brother of Evenlyn Long, Barbara Hendrix, and Mike Duggar.[1] He was married to Mary (Lester) Duggar. Together they had two children, Deanna and Jim Bob Duggar. At the time of his death he had 19 grandchildren.

Early Life
JL was born February 3, 1936 in Fayetteville, Arkansas to James and Velma Duggar. He was one of four children. His father worked at Duggar Realty, a company established by his own father in 1933. JL would later work at the same business. Not much else is known about his early life.

Family
Marriage
JL married Mary Leona Lewis in 1960.
Fatherhood
On July 8 1963, Mary gave birth to their daughter, Deanna L Duggar.
On July 18, 1965, Mary gave birth their son, James Robert "Jim Bob" Duggar.
Grandchildren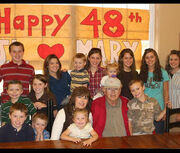 JL's daughter Deanna has one daughter, Amy Rachelle (9/30/86). Despite having Amy out of wedlock, Deanna married her daughter's father, Terry Jordan, on March 14, 2006. They divorced on December 21, 2015.[2]
JL's son Jim Bob married Michelle Ruark on July 21, 1984. At the time of JL's death, they had eighteen children: Joshua James (3/3/88), Jana Marie (1/12/90), John-David (1/12/90), Jill Michelle (5/17/91), Jessa Lauren (11/4/92), Jinger Nicole (12/21/93), Joseph Garrett (1/20/95), Josiah Matthew (8/28/96), Joy-Anna (10/28/97), Jedidiah Robert (12/30/98), Jeremiah Robert (12/30/98), Jason Michael (4/21/00), James Andrew (7/7/01), Justin Samuel (11/15/02), Jackson Levi (5/23/04), Johannah Faith (10/11/05), Jennifer Danielle (8/2/07), Jordyn-Grace Makiya (12/18/08).
Great Grandchildren
On JL's 73rd birthday, his grandson Joshua and his wife, Anna, announced they were expecting their first child.

Death
On February 9, 2009, JL passed away at home in his sleep. At the time he and Mary were living with their son, Jim Bob, and his family. His funeral was the subject for the episode "Duggars Say Goodbye" in season two of 18 Kids and Counting.

Posthumous Family
Since his passing, JL's son Jim Bob had one more child, Josie Brooklyn (12/10/09), and in 2016 took permanent custody of his wife's great nephew Tyler Hutchins. Additionally, he has become a great-grandfather to twenty-four. His great-grandchildren are: Mackynzie Duggar, Michael Duggar, Marcus Duggar, Israel Dillard, Meredith Duggar, Spurgeon Seewald, Henry Seewald, Samuel Dillard, Mason Duggar, Gideon Forsyth, Garrett Duggar, Felicity Vuolo, Ivy Seewald, Daxton King, Addison Duggar, Bella Duggar, Maryella Duggar, Grace Duggar, Evelyn Forsyth, Evangeline Vuolo, Brooklyn Duggar, Fern Seewald, Madyson Duggar, Truett Duggar.

References