Israel David Dillard is the oldest of Derick and Jill Dillard's two children.
Early Life
Pregnancy and Birth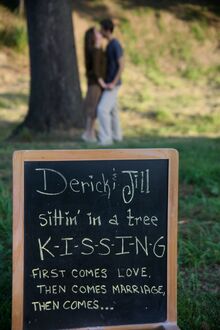 On August 20, 2014, Jill and Derick Dillard announced they were pregnant with their first child. This announcement came only two months after the couple's wedding "We're having a baby! We are so excited," Jill said. After taking several pregnancy tests, Jill's sisters persuaded her to take another while visiting her parents' home. "It was surreal," Derick said. "We were shocked, both of us are so excited." In their announcement, the couple said they were due in March of 2015. "About 30 days after Jill and Derick got married they gathered everyone in the living room and shared the news," Jill's father, Jim Bob said of the announcement. "Everyone was clapping and cheering, and we were in shock, too."[1]
On September 3, 2014, Jill and Derick gave an interview on why they chose to announce their pregnancy at only 8 weeks. "Understanding that the majority of miscarriages happen within the first trimester, and believing that every life is precious no matter how young, we decided to share our joyful news as soon as we could," Jill stated.[2]
On October 21, 2014, Jill and Derick announced that their first child would be a boy.[3]
Throughout her pregnancy, Jill documented her progress with weekly baby bump photos on her Instagram page.
Birth
On April 6, 2015, at 11:49pm, Jill gave birth to her first child, Israel David Dillard. He weighed 9 pounds and 10 ounces and was twenty-three inches long. In a statement on the Duggar family's Facebook page, Jim Bob and Michelle Duggar announced "We are so thankful for a healthy Mom and baby! Love this sweet baby Israel! We are happy grandparents and we promise more pictures soon!"[4]
Jill and Derick had planned on having Israel at home, which they were vocal about during the pregnancy. "I feel like it will be way more relaxing... and having the baby at home with a midwife provides more of that personal care. It's more intimate for the couple as well, getting to be in your own environment," Jill said in one interview.[4] This home birth proved impossible. "His birth didn't go as expected," Jill said of the birth. "But having him here - it's worth all of it. I wouldn't do anything differently." In an interview published on April 14, 2015, Jill said that after being two weeks after her due date, her water finally broke. She tested positive for strep B, which can be passed from mother to baby during birth, and had to begin taking antibiotics through an IV. Twenty hours into labor, they saw a faint sign of meconium and moved to a hospital. Jill initially declined Pitocin to speed her labor. After seventy hours of labor, the baby had flipped into a transverse breech position and experienced irregular heart rates. At this time, the couple and their doctors made the decision to move forward with a C-section. "I love our birth story because it bonded us so well," Jill stated. "I still haven't changed a single diaper. Derick has been changing them all."[5]
On May 10, 2015, Jill and Derick dedicated Israel to God at a church service at Cross Church.[6]
Childhood Education
When Israel was a toddler, his mother taught him pre-school at home.[7] On February 18, 2020, his parents registered him to attend public kindergarten at Janie Darr Elementary School, noting that he will be in the same school district that his father grew up in. He began kindergarten in fall of 2020[8][9]
Resume
Television Appearances
Before he was even born, Israel was the subject of a number of episodes in season 10 of TLC's 19 Kids and Counting. These episodes included his parents announcing they were pregnant, midwife visits, ultrasounds, a gender reveal party, and preparing the nursery.[10] The episode "Jill's Special Delivery", which first aired on May 5, 2015, featured Israel's birth.
Shortly after Israel's birth, two scandals regarding his uncle, Josh Duggar, resulted in 19 Kids and Counting's cancellation. Later that year, TLC announced a new show, Jill & Jessa: Counting On, which originally focused on Israel's parents and his aunt and uncle Ben and Jessa Seewald as they started families of their own and moved on after the scandals. This show, which was later renamed to Counting On as it expanded to feature other adult Duggar siblings, regularly featured Israel in its early seasons, with the season 6 episode "Finding Joy's Dress" featuring Israel's second birthday.
On November 11, 2017, amidst negativity surround Derick Dillard's criticisms of the parents of Jazz Jennings, a transgendered teenager and the focus of another TLC show, I Am Jazz, TLC announced that they had stopped filming Derick and had no plans to film him in the future.[11] A month later, on December 15, Derick posted on his own twitter that he felt it was best for his family to cut ties with TLC and head in a "different direction".[12] Since then, Israel has not been featured on the show, although he is occasionally mentioned or seen in the background.
Missionary Life
On June 26, 2015, Israel's parents announced on their blog that they would be moving overseas to pursue long-term mission work.[13] Although their destination was not originally revealed, Israel's father later said they had lived in El Salvador.[14] In their initial post, Derick touched on the dangers of moving his newborn son to Central America at a young age, saying, "As I'm sure many of you fathers can understand, I (Derick) had a huge dilemma as the provider and protector of my little family. There were definitely more "unknowns" with the international option. God was definitely testing my faith in Him by bringing about this choice in our lives. A friend of ours wisely shared that if God was leading us to serve Him abroad, we should pursue it as early as possible, to avoid a more difficult move later, when our roots are deep and we're more comfortable in life. Ultimately, in life there is nothing more important than simply loving, following and obeying our Creator."[13] The family left for El Salvador on July 5, 2015.[15]
Although they frequently returned to the US for family events and filming for Counting On, Israel did spend a notable portion of his first two years in El Salvador. In May of 2017, the Dillards, then nearing the due date of their second child, returned to the US.[16] On August 9, 2017, they announced that they would not be returning to Central America.[17] Israel has lived in northwest Arkansas since then.
Sponsored Social Media Posts
Israel is often featured in sponsored posts on his mother's instagram account. Generally he is seen in advertisements for children's clothing or toys, often from Christian companies. Additionally, Jill often credits Israel as her photographer in posts featuring pictures of her showing off products. It is unknown if his mother makes any money from these posts or if they are primarily for the free products.
Wedding Involvement
Israel has been involved in the following weddings:
References