Isaac Wallace Waller was the son of Brian and Sue Waller. He was the twin brother of Adam Waller and the older brother of Derrick, David, Sarah, Samuel, Lydia, Becca, and Matthew Waller and Rachelle Afarian.
Early Life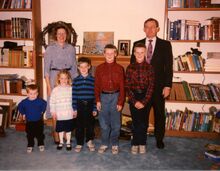 Isaac Wallace Waller was born on April 11, 1980, to Brian Waller and Susan Blom. He and his older twin were the couple's first children, and they went on to have eight more children after him.[1]
Although Isaac began kindergarten in a public school, his parents did not approve of the bad influence the other children were having on him and his twin brother and decided to pull them out of school in the middle of the year to homeschool them instead.[1] The family later came to call their homeschooling Gloria Dei Academy.[2]
Isaac became a Christian at five years old.[3]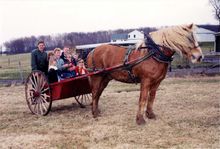 Isaac's family did not stick to traditional gender roles for their children, so he grew up learning to do tasks like cooking and laundry that many of his male peers did not learn.[1]
Isaac's family moved around a lot when he was a child, and he spent time living in Minneapolis, Chicago, Maryland, and Wisconsin while growing up.[1]
Mission Work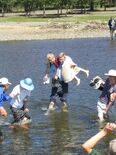 In July of 2005, Isaac left with his family for a two-year mission trip to Mongolia. While there, he would be working for the organization World Vision.[4]
Health Issues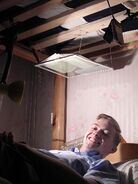 In early October of 2005, while living in Mongolia, Isaac started feeling pain in his lower leg, which started swelling. He was given antibiotics for an infection in his foot and kept on bedrest.[5]
On November 3, 2005, Isaac was medically evacuated to Seoul, Korea, after a month of bedrest. His doctor, Dr. Choi, determined that he had an unusually high white blood cell count and a low platelet count.[6] He slipped into unconsciousness during the first hour of the flight, and once arriving at the hospital it was determined that he had a brain hemorrhage.[7]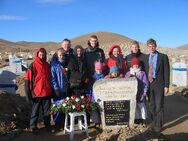 Isaac was pronounced dead at the Yonsei Hospital in Seoul, Korea, at 1:30pm on November 4, 2005.[7]
His family held a funeral for him at First Church of Ulaanbaatar in Ulaanbaatar, Mongolia on November 9, 2005, at which time he was buried.[7] A memorial service was held for his friends and family back in America at Summit Church in St. Paul, MN, a week later.[8]
References