Currently 11 out of the 19 Duggar children are married. Most of their weddings have been highly-televised events, and the wedding parties garner a good deal of interest. Here is a guide to the known wedding details of each Duggar child.
Names are listed as they would have appeared in the wedding program. Many female members of these wedding parties have since married and changed their names.
The weddings below are listed in the order in which they occurred.
Groom: Joshua James Duggar 20 years old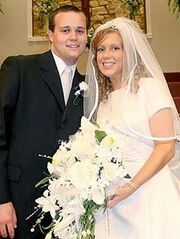 Bride: Anna Renee Keller 20 years old
Anniversary: September 26, 2008
Length of Engagement: 96 days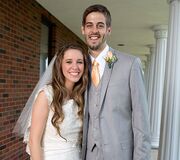 Groom: Derrick Michael Dillard 25 years old
Bride: Jill Michelle Duggar 23 years old
Anniversary: June 21, 2014
Length of Engagement: 85 days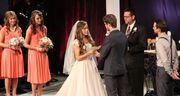 Groom: Benjamin Michael Seewald 19 years old
Bride: Jessa Lauren Duggar 21 years old
Anniversary: November 1, 2014
Length of Engagement: 90 days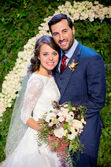 Groom: Jeremy Joseph Vuolo 29 years old
Bride: Jinger Nicole Duggar 22 years old
Anniversary: November 5, 2016
Length of Engagement: 103 days
Groom: Austin Martyn Forsyth 23 years old
Bride: Joy-Anna Duggar 19 years old
Anniversary: May 26, 2017
Length of Engagement: 86 days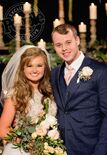 Groom: Joseph Garrett Duggar 22 years old
Bride: Kendra Renee Caldwell 19 years old
Anniversary: September 8, 2017
Length of Engagement: 106 days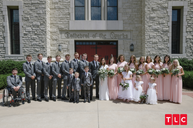 Groom: Josiah Matthew Duggar 21 years old
Bride: Lauren Milagro Swanson 19 years old
Anniversary: June 30, 2018
Length of Engagement: 127 days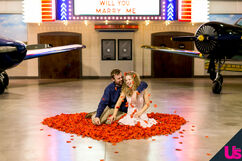 Groom: John-David Duggar 28 years old
Bride: Abbie Grace Burnett 26 years old
Anniversary: November 3, 2018
Length of Engagement: 110 days
Groom: Justin Samuel Duggar 18 years old
Bride: Claire Yvonne Spivey 19 years old
Anniversary: February 26, 2021
Length of Engagement: ~104 days
Groom: Jedidiah Robert Duggar 22 years old
Bride: Katelyn Koryn Nakatsu 22 years old
Anniversary: April 3, 2021
Length of Engagement: 49 days
Groom: Jeremiah Robert Duggar 23 years old
Bride: Hannah Marlys Wissmann 26 years old
Anniversary: March 26, 2022
Length of Engagement: ~85 days