Garrett Duggar is the oldest of Joseph and Kendra Duggar's three children.
Early Life
Pregnancy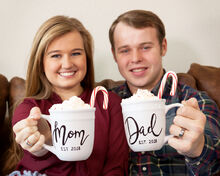 On December 18, 2017, Joseph and Kendra Duggar announced that they were expecting their first child.[1] The couple released a statement to UsWeekly Magazine saying:
"During this season that we are celebrating the birth of Christ, we are so excited to share with you that we are expecting the gift of a child ourselves! Wow, it's so exciting!!! We've both always loved children and seen them as a real blessing from God. It's so surreal to think of being parents and having our own little one. We cannot wait to see this new baby!"[2]
On February 3, 2018, Joe and Kendra announced on the Duggar family website that they were having a boy.[3]
On March 23, 2018, Kendra and Joseph announced via US Magazine that their son was due on June 17, 2018.[4]
Birth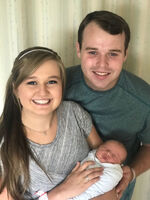 On June 9, 2018, Joe and Kendra announced on the Duggar family website that they had given birth. Garrett David Duggar was born at 1:36p on June 8, 2018. He weighed 7 pounds, 8 ounces, and was 20.5 inches long. In a joint statement, his parents said:
"No matter how many times we've experienced the joy of babies born in our families, there's nothing comparable to the joy in our hearts today! Children truly are a gift from God. We are so thankful for his safe arrival and this new journey as parents"[5]
Resume
Television Appearances
Before he was even born, Garrett was the subject of a number of television episodes in season 8 of the TLC show Counting On. These episodes included his parents announcing they were pregnant, preparing the nursery, throwing a gender reveal party and a sip & see party, and practicing the trip to the hospital.[6]
On June 29, 2018, TLC posted a two-part webisode titled "Joe & Kendra's First Baby" to their website. These webisodes gave viewers a first look at Garrett's birth. On September 24, 2018, the full birth episode, titled "Kendra Has a Baby", first aired.[7] Garrett has been regularly featured on the show ever since.
References