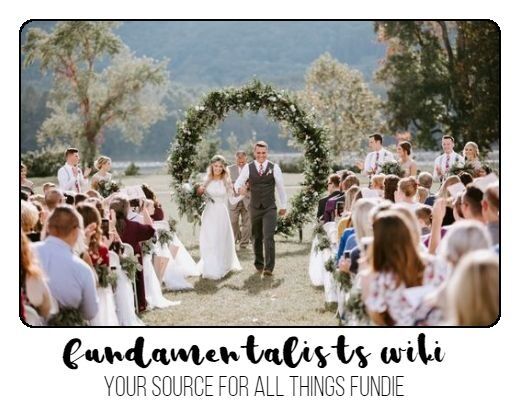 Welcome to the Fundamentalists Wiki
Welcome to the Fundamentalists Wiki, a resource for information about fundamentalist Christian families! This site focuses primarily on mega-families, including many members of the Institute in Basic Life Principles and/or homeschoolers who utilize the Advanced Training Institute.

PLEASE NOTE:
Due to excessive vandalism, all pages have been locked. If you would like to add a contribution, please put it in a comment on the necessary page along with the source. An admin will then edit the page accordingly and your comment will be deleted so as not to have excessive comments about edits. We apologise for this inconvenience, but unfortunately it is necessary at this time. Thank you for your cooperation.
Check out our How-To Page for guides to creating pages and adding information!
Please refer to the rules listed below before editing pages!
Rules
1. Do not post individual photos of minor children who are not regularly featured on TV. Images of these children are only allowed in group photos.
2. All information must be posted with a link to the public source of that information. Speculation and information taken from private social media accounts are not allowed and will be removed. If you are unsure of how to add sources, check out the how-to page!
3. Do not remove information without providing a valid reason in the edit summary. Valid reasons include inaccurate information, information that is no longer publicly available, or information that is unconfirmed speculation.
4. Do not re-create deleted pages. These pages were deleted for a reason. If you feel that reason is an error, please contact an admin to ask if the page can be returned.
5. Do not comment on pages asking for more information or listing information that could be added to the page. Since we only provide information that is publicly available, some sections will be left blank on most pages. We welcome collaboration amongst anyone who wants to help, but questions of this nature do not contribute to the wiki and will be deleted as a part of regular site maintenance. As a part of this collaborative nature, we rely on everyone to add information that they have, and welcome fixes if you see a typo. If you do not know how to add information, please refer to the how-to page!
6. Do not include information about foster children. This includes names, birth dates, and pictures. "As noted in the Resource Family Handbook, "Children in care cannot be photographed for newspaper articles, Facebook or any publication where their identities would become known to the public." It is the policy of the Department of Children and Families (DCF) that you do not post any pictures of a child in care online. It is also important to never reveal personal information about your child in care on the internet. Doing so jeopardizes his safety and violates his right to privacy."
Members will be given two warnings for rule violations. After the third warning, you will be suspended or banned from editing pages.
If you would like to request that information about your family be taken down, please feel free to contact a site admin!
Don't know where to start? Try these links:
Photos and videos are a great way to add visuals to your wiki. Find videos about your topic by exploring Fandom's Video Library.
Community content is available under
CC-BY-SA
unless otherwise noted.