Derick Michael Dillard is the son of Cathy Bynum and the late Rick Dillard. He is the older brother of Dan Dillard. He the husband of Jill Dillard. He is the father of Israel and Samuel Dillard.
Early Life
Derick was born on March 9, 1989, to Rick and Cathy Dillard. He grew up in Rogers, AR. Not much is known about Derick's childhood.
Family
Courtship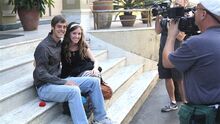 Before leaving for Nepal, Derick met Jim Bob Duggar, and the two became prayer partners. In March of 2013, he met Jim Bob's daughter, Jill
Duggar
, over the phone, and begin praying asking God for direction on whether he should continue getting to know Jill. The two began talking more seriously in August of 2013 at Jim Bob's suggestion. At the end of November, 2013, Jill and Jim Bob came to Kathmandu to meet Derick. During this trip, Derick and Jill entered an official courtship. This trip is featured on the
19 Kids and Counting
episodes "Going the Distance for Love" and "The Big Question". After returning home the following January, as featured on the 19KaC episode "A Toast to Love", Jill and Derick began to spend more time together in person.
[1]
Engagement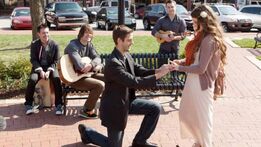 In February of 2014, Derick asked Jim Bob's permission to propose to Jill. Derick had a song written by singer-songwriter Walker Hayes to have played before his proposal. The song "
When He Made You
" chronicles the couple's love story. On March 29, 2014, Derick proposed to Jill, and she answered "yes, totally!"
[2]
This proposal is featured on the 19KaC episode "The Proposal".
Wedding
Derick married Jill Duggar on June 21, 2014, at
Cross Church
in Springdale, Arkansas. The couple shared their first kiss at the wedding in front of more than 1,000 guests.
[3]
His best man was his brother, Dan, and his groomsmen included two of Jill's brothers,
John-David
and
Joseph Duggar
. His ring bearers were Jill's brother,
Jackson Duggar
, and her nephew,
Michael Duggar
.
[4]
After a honeymoon in Kill Devil Hills, NC,
[5]
the two settled into a home in Northwest Arkansas owned by Jill's father, Jim Bob.
Fatherhood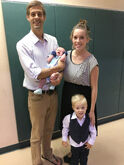 Shortly after getting married, Jill and Derick discovered that they were pregnant with their first child, which they announced publicly on August 20, 2014. [6] The couple announced their pregnancy to Jill's family on the 19KaC episode "Jill's Secret". After nearly seventy hours of labor, Jill gave birth to a son, Israel Derick Dillard, via a Ceaesarean section, on April 6, 2015.[7] This birth is featured on the 19KaC episode "Jill's Special Delivery".
On December 20, 2016, Jill and Derick announced that they were expecting their second child.[8] After forty hours of labor, their second son, Samuel Scott Dillard, was delivered via a C-section on July 8, 2017.[9]
Career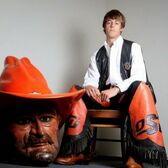 University
Derick began attending Oklahoma State University, his parents' alma mater, in the fall of 2007. Derick's father, Rick, passed away in his sleep due to a heart condition on January 18, 2008, when Derick was 19 years old.[10] In April of 2008, Derick tried out to play Pistol Pete, his school's mascot, a role that his father had once held, but did not make the cut. In April of 2009, Derick tried out again, and this time he got the part. [11] Derick graduated from Oklahoma State University with a Bachelor's Degree in Business Amdinistration, Accounting, and Economics 3.5 on 2011.[12]
Accountant Career
In February of 2014, Derick began working as a tax accountant at Wal-Mart's corporate headquarters in Bentonville, AR.
[13]
On June 10, 2015, Derrick announced he had left this job.
[14]
Although it was originally speculated that Derick was quitting to move his wife and child away from northwest Arkansas after it was discovered that Jill had been
molested by her older brother as a child
, Derick later said that this decision had been planned for some time.
[15]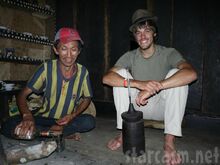 Missionary Work
Nepal
In January of 2012, Derick moved to Kathmandu, Nepal, to do volunteer work. While there, he led teams of American volunteers into villages in the Himalayan mountains to provide services and education to Tibetan refugees. He stayed there for two years, returning home in January of 2014.[16]
Central America
In the summer of 2015, the news broke that Jill's older brother,
Josh Duggar
, had molested four of his younger sisters. Shortly after, Jill publicly identified herself as one of his victims.
[17]
In the same month, Derick quit his job at Wal*Mart, although it is unclear if the timing is circumstantial or not.
[18]
Later that month, Derick and Jill announced that they would be leaving for a long-term mission trip.
[19]
After a number of complaints from fans and donors alike that the couple was spending just as much time back in Arkansas as on the mission field, the couple began refunding donations to those who were unsatisfied.
[20]
Much of their time in both locations has been featured on the show
Counting On
. Jill and Derick most recently returned to the US in May of 2017 in advance of their second child.
[21]
On August 9, 2017, Jill and Derick announced that they were permanently relocating their mission to northwest Arkansas.
[22]
Television Career
Derick was featured in the last season of TLC's 19 Kids and Counting, which focused on the lives of his wife, Jill's family. In 2015, a spin-off series, Jill & Jessa: Counting On, premiered on TLC. This show, which originally focused on Jill and her sister Jessa and then expanded to include many of the other Duggar siblings, regularly featured Derick in its first five seasons. On November 11, 2017, after continued Twitter posts disparaging Jazz Jennings, a transgendered teenager who is the central focus of the TLC program I Am Jazz, TLC announced that Derick had been cut from the show.[23] (Derick's controversy regarding Jazz Jennings is discussed in a later section.)
On December 15, 2017, Derick retweeted a Fox News tweet about him being fired saying it was untrue, and his family leaving the show had been his decision. "For the record, I was never fired," he claimed. "I just felt it best for my family to cut ties months ago, as we are heading in a different direction."
[24]
In replies to comments on his tweet, he insisted he had never worked for TLC or had a formal relationship with them.
[25]
[26]
Viewers of the show find this unlikely, given how heavily Derick had been involved with the show previously. Only a few days later, on December 20, 2017, Derick posted a tweet encouraging his followers to watch old episodes of
Counting On
on the TLC Go app, which confused many followers. This tweet was later deleted.
Substitute Teaching
On October 2, 2016, Derick posted a photo on his instagram account with a caption that said he was substitute teaching at Springdale High School.[27] He has been photographed as a substitute teacher on other days too. It is unknown how often Derick works in this role.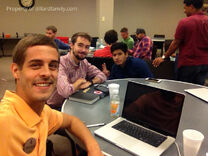 Ministry Training
Derrick is currently studying in the Cross Church School of Ministry. His ministry track is the international student ministry at the University of Arkansas through the C3 Ministry team at Cross Church.[28] C3 is a ministry that caters to college students in the Fayetteville, AR, area.[29]
In March of 2018, Derick went on a mission trip to Mexico as a part of his ministry training. This trip included a few days of tourist activities, as well as street preaching and providing assistance to a local church in Guadalajara.[30]
In April of 2018, Derick went on a mission trip to Colorado as part of his ministry training. This trip involved community outreach at a local church in Colorado Springs.[31]
Law School
Derick is currently attending law school at the University of Arkansas.[32]
Scandals
Twitter Controversy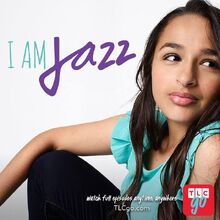 On August 2, 2017, TLC's official Twitter page posted a tweet promoting the show I Am Jazz. I Am Jazz chronicles the life of Jazz Jennings, age sixteen at the time of the tweet, a Jewish transgendered teenage girl from Florida. Just under two hours after posting the tweet, Derick Dillard retweeted it with the added comment "What an oxymoron... a 'reality' show which follows a non-reality. 'Transgender' is a myth. Gender is not fluid; it's ordained by God."[33] The tweet was quickly met with a number of replies, some supporting Derick's stance against transgenders and other defending Jazz Jennings. One of the replies, from twitter user @notthegymnast, asked "Is it necessary for a grown man to throw shade at a teenage girl?"[34] "I want to be clear," Derick replied. "I have nothing against him. I only have issues with the words and definitions being propagated here."[35]
Over the course of that night and the days following, many news sources and tabloids alike picked up the story, most criticizing Derick, a twenty-eight-year-old father of two, for attacking a teenage girl on the internet.[36][37][38][39]
On August 3, 2017, Jazz herself responded to the incident by
tweeting
"Every day I experience cyber-bulling, but I keep sharing my story. Today was no different."
[40]
The tweet, which was pinned at the top of her
twitter page
's feed, was met with much positivity, and was retweeted by a number of pro-trans pages and well-known trans rights activists.
Around the same time that Jazz posted her tweet, the
official TLC Twitter
posted "It is important for us to let our viewers know that Derick Dillard's personal statement does not represent the views of TLC."
[41]
In the replies to this tweet, as well as Derick's original tweets, many viewers call for Derick to be fired or resign from the show, stating that he shouldn't continue to take money from the network if he's so opposed to the things TLC promotes. So far, nothing has been announced to indicate he will leave the show.
People Magazine posted an article on November 11, 2017, covering Derick's continued tweeting about Jazz and other transgendered individuals. The article, which included a lengthy Twitter conversation between Derick and user @_mastercthulhu, pointed out that Derick continues to refer to Jazz by male pronouns and claims he's disgusted by the fact that her parents have forced this lifestyle on her.[42] Later that day TLC announced that Derick had been cut from Counting On several months prior, as detailed in the above section about his television career.
Continued Controversy
Derick frequently speaks out against TLC on Twitter, with his comments occasionally being about LGBT TLC stars like Jazz Jennings, Nate Berkus, and Jeremiah Brent.[43] [44]
On May 4, 2018, Derick was discussed on the show The View. He responded to the shows negative comment saying "Really?! Are my friends on The View really going to be our standard & champion for open-mindedness? Conviction doesn't equal lack of open mindedness. We need to love all people & promote what's best for everyone. Most Americans believe this, but are fearful of bullying like this."[45]
Questionable Requests for Donations
2015
Shortly after Derick and his family moved to Central America, a move largely funded by donations, donors began to complain that the family was not being transparent enough with how the donations were being used. One of the most common complaints was that the donations seemed to be funding regular trips back to the US to visit family members. In October of 2015, they began to offer refunds of their donations.[46]
2017
When Derick began studying ministry in 2017, the family once again took to the internet to ask for donations, this time to fund his education. The listed goal was $6,500. This fundraiser, which was hosted by the website Pure Charity, has been deleted twice due to a "violation of our Terms of Use for Registered User Conduct".[47] Backlash for this fundraiser was more severe than the previous one, with many people complaining that Derick should get a job and support his family instead of begging for handouts.[48][49][50][51]
On November 10, 2017, Derick began a new fundraiser on the website GoFundMe with a goal of $10,000 to go towards his CCSM training. As of November 11, 2017, this fundraiser is still active and can be found here.
References