Jurassic World: Dominion Dominates Fandom Wikis - The Loop
Play Sound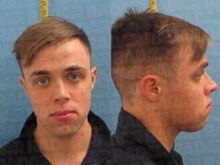 Caleb Williams is the son of Jeffery and Dawn Williams. He is the younger brother of Josh Williams and the older brother of Danielle, Jonathan, and Moriah Williams.
Early Life
Caleb was born on December 2, 1994[1] to Jeffery and Dawn Williams.[2]
Mission Work
In 2013, Caleb went on a mission trip to the Philippines. While there, he picked up a publicly unknown sickness that he dealt with for many years afterwards.[3]
In June of 2017, Caleb went on a mission trip to Nassau, Bahamas, where he worked on a vacation Bible school.[3]
Courtship Rumors
In 2017, Caleb was rumored to be courting Jana Duggar.[4] These rumors began after Caleb was pictured with various members of the Duggar family, although the only photos that included Jana were group photos where she was nowhere near Caleb. On December 29, 2017, Caleb publicly denied these rumors, saying, "Now, to clear the fog and avoid any confusion, "Read my lips...I am not dating Jana Duggar." The extent of our relationship is purely friends and nothing more."[5]
Sexual Assault Allegations and Arrest
On November 26, 2018 Caleb was arrested on two counts of aggravated criminal sexual abuse in Illinois.[6] He "allegedly committed two Class 2 felonies, including penetrating a minor that was older than 13, but younger than 17, and who he was at least five years older than. The first crime allegedly took place between May 29, 2015 and Aug. 1, 2016, while the second was alleged to have happened between Aug. 1, 2016, and May 31, 2018".[7] It is unknown if these charges relate to one or two victims or if Caleb himself is related to the victim(s).
His bail was set at $50,000 and his mother posted 10% bond the next day, meaning Caleb spent one night in jail. He appeared in court on the 28th and pled not guilty.[8] Until his court date in January 2019 he was on probation which prohibits him from leaving the state[8] or having contact with anyone under the age of 18.[1]
On January 22, 2020 he was sentenced on one felony count of Aggravated Criminal Sexual Abuse to 62 days in the Logan County Jail,[9] followed by 18 months probation, during which is not allowed any contact with the victim or anyone else under the age of 18 years. While in jail, however, he was allowed out on work release, allowing him to maintain a job. He was not prosecuted on the second felony charge.[10]
Caleb is currently registered as a Child Sex Offender and Sexual Predator with the Illinois State Police.[11]
Domestic Terrorism
On January 6, 2021, domestic terrorists attempted a coup on the United States government and participated in an insurrection on the US Capitol. Despite still being on probation, Caleb was spotted at the insurrection wearing a "Civil War" sweatshirt and trump hat, while carrying a trump flag. When asked if civil war was really want he wanted, he replied "yes".[12]

References