We're Getting Mutants in the MCU - The Loop
Play Sound
Bible Baptist Church is a Baptist church in Clinton, TN. It is led by Pastor Gil Bates. They are most known for the attendance of Gil and the rest of the Bates family.
Beliefs
From the church's website:
Church Misison
Evangelization of lost sinners – Mark 16:15
Edification of the saints – Colossians 2:7
Equipping of the servants – Ephesians 4:11-12
Statement of Faith
Bible
We believe the Old and New Testament is God's Holy Word- inerrant, infallible, God-breathed, and preserved for us today. Its truth is eternal, and its message is relevant for the church today. The Bible is our sole and final authority for faith and practice
The Godhead
We believe in one Triune God, eternally existing in three persons—Father, Son, and Holy Spirit, co-eternal in being, co-identical in nature, co-equal in power and glory, and having the same attributes and perfections.
Creation
We believe that God created the entire universe in six, literal, twenty-four hour days
Man
We believe that man was created in the image and likeness of God, but that in Adam's sin the race fell, inherited a sinful nature, and became alienated from God; and therefore man is totally depraved, and, of himself, utterly unable to remedy his lost condition. The sacredness of human personality is evident in that God created man in His own image and is mindful of him, and in that Christ died for man; therefore, every individual possesses dignity and is worthy of respect and Christian love.
Jesus Christ
We believe that the Lord Jesus Christ, the eternal Son of God, became man, without ceasing to be God, having been conceived by the Holy Spirit and born of the virgin Mary, in order that He might reveal God and redeem sinful men. We believe that the Lord Jesus Christ accomplished our redemption through His finished work on the cross as a representative, vicarious, substitutionary sacrifice; and that our justification is made sure by His literal, physical resurrection from the dead. We believe that the Lord Jesus Christ was raised bodily and that He ascended to Heaven and is now exalted at the right hand of God, where, as our High Priest, He fulfills the ministry of Representative, Intercessor, and Advocate.
Holy Spirit
We believe that the Holy Spirit is the Person who reproves the world of sin, of righteousness, and of judgment; and that He is the Supernatural Agent in regeneration, indwelling all believers and sealing them unto the day of redemption. We believe that the sign gifts of the Holy Spirit, such as speaking in tongues and the gift of healing, were temporary. We believe that speaking in tongues was never the common or necessary sign of the baptism or filling of the Holy Spirit and that ultimate deliverance of the body from sickness or death awaits the consummation of our salvation in the resurrection, though God frequently chooses to answer the prayer of believers for physical healing.
Salvation
We believe that the clear message of salvation is "repentance toward God and faith toward our Lord Jesus Christ" (Acts 20:21). We believe that salvation is "by grace," plus nothing and minus nothing. We believe that Jesus Christ died for every man, and that each individual chooses to accept or reject the grace of God. We believe that men are justified by faith alone and are accounted righteous before God only through the merit of our Lord and Saviour Jesus Christ. We believe that all the redeemed, once saved are kept by God's power and are thus secure in Christ forever. We believe that eternal life is the present possession of every believer.
Satan
We believe in the reality of the person of Satan and that he and the fallen angels wage a spiritual warfare against the plan and purposes of God. We believe that Satan is a created angelic being who rebelled and who tempted man to join him in rebellion against God. We believe his power is supernatural, yet limited; and that he cannot act without the permission of God. Satan's eternal end is everlasting torment in the Lake of Fire.
The Local Church
We believe that the New Testament church is a local assembly of baptized believers who have voluntarily joined themselves together to carry out the Great Commission. Christ is the head of the church.
The Ordinances
We recognize the ordinances of baptism by immersion in water and the Lord's Supper as a Scriptural means of testimony for local churches in this age. Baptism is practiced by individuals as a symbolic expression of personal identification with Christ in His death, burial, and resurrection. The Lord's Supper is practiced corporately as a symbolic reminder of His provision for salvation for the church.
Biblical Separation
We believe that all the saved should live in such a manner as not to bring reproach upon their Savior and Lord; and, that separation from all religious apostasy, all worldly and sinful pleasures, practices and associations is commanded of God.
Christ's Return
We believe our Lord's return is literal, personal, visible, imminent, premillennial, and pretribulational. Believers will be caught up to be with the Lord prior to the seven years of tribulation, and at the end of the tribulation Christ will return with His saints to establish His thousand-year reign on the earth.[1]
Pastor
Gil's wife, Kelly, published the following post on her blog in 2012 on why Gil had chosen to open a church: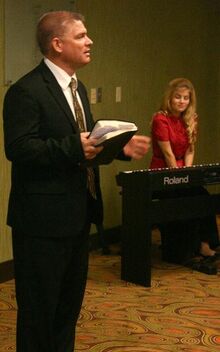 We embarked upon an exciting new adventure with the blessings and encouragement of our dear pastor, Jack Gwinn. Pastor Gwinn has been such an incredible inspiration to us these past 4 years. He has a long legacy of faithful service as pastor. He has served in West Virginia and Peoria, Illinois through the years, but God knew we needed his example and leadership in Knoxville at Still Waters Baptist Church. His testimony and life example helped us step out of our comfort zone to plant a church close to our home.
About 18 years ago, Gil walked a little church aisle one Sunday morning when our first pastor, Mark Williams, preached a message: "Vessels of Honor." Gil told the Lord that morning that he would preach whenever the Lord opened the doors of opportunity. Gil has never asked to speak anywhere, but over the years on occassion, God has allowed him to preach at various churches. In recent years, several families approached asking if God had been directing Gil to pastor a church. It's certainly easier to "attend" church, so we hid from the idea of such a huge responsibility and undertaking. Nonetheless, Gil began speaking to Pastor Gwinn about the tugging at his heart. God has a way of prompting and prodding us to do something that we are in no ways capable of doing on our own! Pastor Gwinn, with his typical exhorting mannerisms, said, "Boy, hurry up and get to work! And make sure you start the services on time! Don't be late!"
Three weeks ago, with the generous help of our loving Still Waters Baptist Church family we met at the brand new Bible Baptist Church for our very first service! We are temporarily meeting in the conference room of Holiday Inn Express in Clinton, Tn., but we know God has a wonderful future in store for us... through the mountain top experiences and through the valleys!
We've already seen His hand of provision in so many ways! Our Still Waters Church family and Pastor Gwinn donated our keyboard! Pastor Mike Samples of New Testament Baptist donated 100 hymnals! With mixed emotions of leaving our precious friends at Still Waters, we rejoice through our tears to see God faithfully walk us hand in hand, as little children, on this very new step of faith. [2]
References