The Bates family has 19 children and 20 grandchildren from parents Gil and Kelly Bates. They have been the subject of two television shows, United Bates of America, which aired on TLC in 2012, and Bringing Up Bates, which aired on UPTV from 2015 to 2021. Members of the Bates family have also appeared on TLC's 19 Kids and Counting.
Family
Parents
Gil is the owner-operator of Bates Tree Services[3], the pastor of Bible Baptist Church of East Tennessee[4], and a board member for the Institute in Basic Life Principles[5]. Kelly Jo is a housewife and homeschool mom[6].
Anniversary: December 19, 1987[7]
Children
| | Name | Date of Birth | Notes |
| --- | --- | --- | --- |
| 1 | Zachary Gilvin "Zach" Bates | December 30, 1988[8] | married to Whitney Perkins with 4 children |
| 2 | Michael Christian "Michaela" Keilen | January 23, 1990 | married to Brandon Keilen |
| 3 | Erin Elise Paine | May 2, 1991 | married to Chad Paine with 5 children |
| 4 | William Lawson "Lawson" Bates | July 27, 1992[9] | married to Tiffany Espensen |
| 5 | Kenneth Nathaniel "Nathan" Bates | August 29, 1993[10] | married to Esther Keyes |
| 6 | Alyssa Joy Webster | November 9, 1994[11] | married to John Webster with 4 children |
| 7 | Tori Layne Smith | December 20, 1995[12] | married to Bobby Smith with 3 children |
| 8 | Trace Whitfield Bates | February 1, 1997[13] | engaged to Lydia Romeike[14] |
| 9 | Carlin Brianne Stewart | April 11, 1998[15] | married to Evan Stewart with 2 children |
| 10 | Josie Kellyn Balka | August 4, 1999[16] | married to Kelton Balka with 2 children |
| 11 | Katie Grace Clark | October 5, 2000[17] | married to Travis Clark[18] |
| 12 | Jackson Ezekiel Bates | February 17, 2002[19] | |
| 13 | Warden Justice Bates | May 19, 2003[20] | |
| 14 | Isaiah Courage Bates | October 16, 2004[21] | |
| 15 | Addallee Hope Bates | February 17, 2006[22] | |
| 16 | Ellie Bridget Bates | April 28, 2007[23] | |
| | Jewels Bates | | miscarriage[24][25] |
| | Jubilee Bates | | miscarriage[24][25] |
| 17 | Callie-Anna Rose Bates | August 2, 2009[26] | |
| 18 | Judson Wyatt Bates | September 15, 2010[27] | |
| | Zion Bates | March, 2011[28] | miscarriage |
| 19 | Jeb Colton Bates | February 1, 2012[29] | birth featured on 19 Kids and Counting episode "The Bates Family: And Baby Makes 19"[30] |
| | Sunny Bates | August, 2012[25] | miscarriage |
To see more information about the Bates children's weddings, please see The Guide.
Whitney Eileen Perkins - born on September 21, 1993[31]
Zach used to work as a law enforcement officer for the Anderson County Sheriff's Department, but has since retired and works with his dad in the tree business and helps run Bates Sisters Boutique.[32] Whitney has her realestate licsense and used to work for Bailey & Co. Real Estate and an affiliate broker, [33] and is co-owner of Bates Sisters Boutique[34].
Anniversary: December 14, 2013[7]
Michael's Family
Brandon Timothy Keilen - born on September 15, 1989[42]
Brandon is currently a videographer for the Institute in Basic Life Principles.[43] Michael has a degree in nursing.[44] The two also run an online store called Keilen Corner, which sells the books Brandon wrote and homemade baby items from Michael.[45]
Anniversary: August 15, 2015[7] (wedding featured on Bringing Up Bates episode "Wedding Bliss & a First Kiss"[46])
Charles Steven "Chad" Paine III - born on April 18, 1987[47]
Chad is currently the owner-operator of Paine Construction.[48] Erin currently assists Chad by decorating projects for his company[49] and she also was a co-owner of Bates Sisters Boutique, but has since left to start her business ChadandErinco[50].
Anniversary: November 2, 2013[7] (wedding featured on 19 Kids and Counting episode "Wedding Bells"[51])
Lawson's Family
Tiffany Lian Espensen - born on February 10, 1999
Lawson is a country singer, works with MEDIC Corps, and does many other unknown jobs. Tiffany is an actress.
Anniversary: May 12, 2022[61]


Nathan's Family
Esther Joy Keyes - born on October 14, 1997
Nathan co-founded MEDIC Corps with John-David Duggar and is the current Director of Operations. He is also a commercial fixed wing and helicopter pilot, a certified flight instructor, SCUBA Diver and a rescue specialist and has served in emergency services as a first responder, firefighter and a law enforcement officer.[62] Esther is a stay-at-home wife.
Anniversary: October 22, 2021[63]
John Elliott Webster - born on November 21, 1989[31]
John currently works as a technician for Webster Air Conditioning[65] and is the owner-operator of Johnny On the Spot Cleaning[66]. Alyssa used to assist with cleaning jobs early in their marriage[65].
Anniversary: May 24, 2014[7] (wedding featured on Primetime Nightline episode "My Extra-Ordinary Family"[67])
Robert "Bobby" Ellis Smith III - born on February 16[73], 1995
Bobby currently works with brother-in-law, Kelton, as a plumber and administrative director for Tennessee Standard.[74] Tori is a stay-at-home wife and mother.
Anniversary: December 16, 2017[75] (wedding featured on Bringing Up Bates episode "Tori's Winter Wonderland Wedding"[76])
Carlin's Family
Evan Patrick Stewart - born on August 24, 1995
Evan currently works as an electrician with BESCO. Carlin is co-owner of Bates Sisters Boutique[82].
Anniversary: May 25, 2019[83]
Josie's Family
Kelton Edward Balka - born on July 4, 1995
Anniversary: October 5, 2018[88] (wedding featured on Bringing Up Bates episode "A Bride, A Groom and a Love That's True"[89])
Kelton currently owns Tennessee Standard, a plumbing company in Knoxville, where he works with Bobby.[74] Josie worked as a stylist at R&Co Salon prior to marriage[90], but in January 2020 she launched an events hair and makeup company (Effortless Beauty Company) with her friend Grace Rochat[91].

Katie's Family
Travis James Clark - born on March 8, 2001
Travis works at his family's church and graduated with a degree in church music in May 2022.[95] He currently works for a sales company and does music work on the side. Katie has a cosmetology license, but has not yet transferred it to New Jersey.
Anniversary: December 3, 2021
Beliefs and Practices
Institute in Basic Life Principles
The Bates family follows the teachings of Bill Gothard's Institute in Basic Life Principles and their homeschooling program, Advanced Training Institute. It is unknown when they began following IBLP. In 2008, Gil said that they met the Duggars "a long time ago" at a conference and got to know them further at other conferences; it is assumed that these conferences were IBLP.[96] The group lists the following goals on their website:
The Institute in Basic Life Principles (IBLP) was established for the purpose of introducing people to the Lord Jesus Christ, and is dedicated to giving individuals, families, churches, schools, communities, governments, and businesses clear instruction and training on how to find success by following God's principles found in Scripture.
These goals are accomplished primarily through seminars, educational programs, printed literature, and the operation of centers to facilitate training.
You are invited to explore and avail yourself of the resources we offer.[97]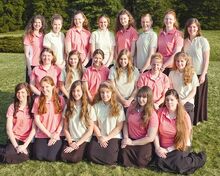 Gil Bates joined the IBLP board of directors in 2013.[98][99] In 2015, Erin Paine said in a comment on one of her Instagram photos that she and her husband "are not affiliated with the ministry or Mr. Gothard in anyway at all, nor do we support." Lawson commented on the photo as well, saying "I do not support him [Gothard] or his ministry."[100] It is unclear if Lawson was referring to IBLP or Gothard's new ministry.
In addition to the ATI conference in Big Sandy, many of the older Bates children have been seen attending other IBLP functions like Journey to the Heart.
Homeschooling
Although both Gil and Kelly attended public schools growing up, they made the decision to homeschool their children so they could create their own curriculum that focused on character and faith. Although Kelly does handle the majority of the homeschooling (with the assistance of the older children), Gil does participate in the character traits training.[101] "It's a task to homeschool this many at one time, but my wife is very organized," Gil once said of Kelly's teaching.[6]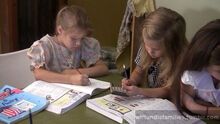 When asked about homeschool curriculum, Kelly has listed many different options she's used "based on [each individual's] learning styles". Choices mentioned include A Beka, Bob Jones, Paces, Switched on Schoolhouse, The Teaching Textbook, Wordsmith, Apologia Science, Precepts of Anatomy and Physiology, Principles Precepts and Theories of Biology, Grammar Key, Easy Grammar, and Teach Your Child to Read in 100 Easy Lessons. She has said that her usual go-to is A Beka.[102]
Although the children are homeschooled through high school, many of them have gone on to pursue degrees at Crown College of the Bible. Currently Tori, Trace, Carlin, and Josie all attend Crown College.[103]
Buddy System
Each of the older Bates children is assigned a younger partner who they help with everyday tasks.[104]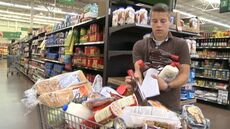 Debt Free Living
After attending a financial freedom seminar (likely the Jim Sammons seminar the Duggars often praise), the Bates family began to make a point to try to live debt free. Despite this, they have often borrowed money from their son Lawson, who makes a significant amount from his lawn mowing business. "We call him the bank financier," Kelly said of Lawson, "because he is always lending to siblings, or lending to us, or he's the one that always has money in the account when the rest of us don't."[105]
References