Anna Renee (Keller) Duggar is the fifth of Mike and Suzette Keller's eight children. She is married to Josh Duggar, who is currently in federal custody. They have seven children, Mackynzie, Michael, Marcus, Meredith, Mason, Maryella, and Madyson.
Early Life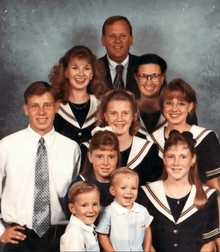 Anna Renee Keller was born on June 23, 1988, to parents Mike and Suzette Keller. She was the couple's fifth child, and they went on to have three more children after Anna. The Kellers raised their children with strict rules, and had weekly 15-minute meetings scheduled for each individual child to talk with his or her parents. Anna was said to be especially close to her younger sister, Susanna, as a child. In 1996, Mike left his job to minister full-time to inmates, and as Anna grew up she often went with him to work with incarcerated young women. Along with her siblings, Anna was homeschooled, and completed high school at the age of sixteen. After high school, Anna enrolled in an online Christian college program from which she received a degree in early child education. At the age of nineteen, Anna attended a Journey to the Heart with her sister Priscilla, and considers it a life-changing event.[1]
Family
Courtship and Engagement
Anna met Josh Duggar at a homeschooling convention in 2006. Reportedly, due to the Kellers' strict rules regarding feelings, Anna was not allowed to discuss her feelings for Josh with her siblings, but discussed them with her mother. Shortly after meeting, the two entered a courtship.[1] Their courtship rules were discussed on the 17 Kids and Counting episode "Duggar Dating Rules", and included no physical contact until engagement and no time alone as a couple until marriage. Anna had stated that she did not want to be engaged before her twentieth birthday, therefore Josh waited until then to purpose. He flew down to Florida to surprise her, showing up to Gator Landing in East Palatka where she was having dinner with her parents, Mike and Suzette Keller. Originally, dinner was to be outside, but due to last minute weather changes, the dinner and proposal were moved indoors. During the course of the meal, Josh showed up with Balloons for Anna and subsequently asked her to marry him. Anna accepted. The proposal was featured on the 17 Kids and Counting episode "Josh Gets Engaged". It was also posted on YouTube in its entirety.
Marriage
On September 26, 2008, Anna and Josh were married at Buford Grove Baptist Church in Hillard, Florida. They shared their first kiss during the wedding, and vowed to leave the number of children they would have "up to God".[2] The couple moved back to Josh's hometown of Springdale, Arkansas, where Anna assisted Josh in running his used car lot.
Motherhood
On April 13, 2009, Josh and Anna Duggar announced that they were expecting their first child.[3] On June 15, 2009, they appeared on the Today Show, where they learned that the child would be a girl.[4] On July 31, 2009, they announced that she would be named Mackynzie Renee.[5] On October 8, 2009, Mackynzie Renee Duggar was born in the couple's home.[6] She weighed 8 pounds and was 19 1/2 inches long.[7]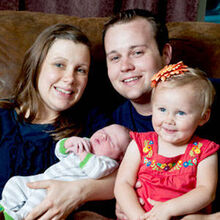 On November 11, 2010, Josh and Anna announced that they were expecting their second child, who was due June 19, 2011.[8] On March 14, 2011, Josh and Anna announced that they were expecting a boy.[9] On June 15, 2011, Michael James Duggar was born in his parents' home. He weighed 8 pounds and 5 ounces.[10]
On March 11, 2013, Josh and Anna announced that they were expecting their third child.[11] On April 1, 2013, they announced that they were expecting a boy.[12] On June 2, 2013, Marcus Anthony Duggar was born at the home of a nearby midwife. He weighed 9 pounds and 3 ounces.[13]
On December 3, 2014, Josh and Anna announced that they were expecting their fourth child.[14] On March 3, 2015, they announced that the child would be a girl.[15] On July 16, 2015, Meredith Grace Duggar was born, in another Arkansas home the couple had recently moved into. She weighed 7 pounds and 14 ounces.[16]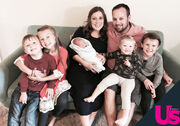 On March 17, 2017, Josh and Anna announced that they were expecting their fifth child, a son.[17] On September 12, 2017, Mason Garrett Duggar was born at 1:20am.[18][19] He weighed nine pounds and one ounce and was 22 inches long[19].
On April 26, 2019, Josh and Anna announced that they were expecting their sixth child, who was due in fall of 2019.[20] On June 20, 2019, they announced the child would be a girl.[21] On November 27, 2019, Maryella Hope Duggar was born at 9:12 am. She weighed eight pounds and two ounces and was 20 inches long.[22]
On April 23, 2021, Anna announced via instagram that she was expecting her seventh child and the child was a girl.[23] On October 29, 2021, Anna's father in law, Jim Bob, announced he was running of the Arkansas State Senate District 7 seat. In his campaign announcement, he said he and his wife "have been blessed with 22 grandchildren so far", thus revealing that the baby was born in October.[24]
On November 16, 2021, Anna announced via instagram Madyson Lily Duggar was born on October 23, 2021. She weighed 7lbs 9oz and was 20in long.[25]
Move to Maryland
On June 14, 2013, Tony Perkins, president of the Family Research Council (FRC), announced that he had hired Josh Duggar as an executive director of the lobbying arm FRC Action.[26] Because of this new job, Anna, along with husband Josh and their three children, moved to Oxon Hill, Maryland. The family lived there until 2015, when Josh lost his job after Josh was revealed to have inappropriately touched his sisters while a teenager. They were spotted moving back to Arkansas, where Anna and her children temporarily lived with Josh's parents. In August of 2015, a second scandal broke in the wake of the Ashley Madison hack, this one about Josh cheating on Anna. Josh was enrolled in a rehabilitation program for his sex addiction for a six month period before returning to his family.
Life Post-Scandals
For a comprehensive guide, please see main article: Josh Duggar Scandal Chronology
In November of 2015, after the cancellation of 19 Kids and Counting, TLC began airing a spin-off show, Jill and Jessa: Counting On. The series' initial episodes dealt heavily with the fallout from Josh Duggar's scandals of the previous year, and included interviews with Anna Duggar. In the interview, Anna referred to her husband's infidelity as a "betrayal" saying: ""It was definitely a hard thing. I think it is such a betrayal for a spouse to go through what we're walking through," she said. "It was hard to realize that it was such a public thing, and so, not only was it a betrayal against me, but it was also a betrayal for those who call themselves Christian, because here we were as a Christian couple and everyone was able to see us get married and to vow before God to be loyal to each other. And that loyalty was broken."[27]
Despite many rumors from unnamed sources that she was considering divorce, Anna is currently still married to Josh. They have since welcomed two additional children.
Single Motherhood
On Thursday, April 29, 2021, Josh was arrested by US Marshals and taken into custody. He was arraigned the following day where he was formally charged with two counts relating to CSAM. On May 5, 2021, after a bond hearing, Josh was released to the care of the Rebers. He was not allowed to live with Anna and was only allowed visitation with his children if Anna was present to supervise.
On Thursday, December 9, 2021, Josh was found guilty on two counts relating to CSAM and was immediately handcuffed and taken into custody by US Marshals.[28]
Wedding Involvement
References